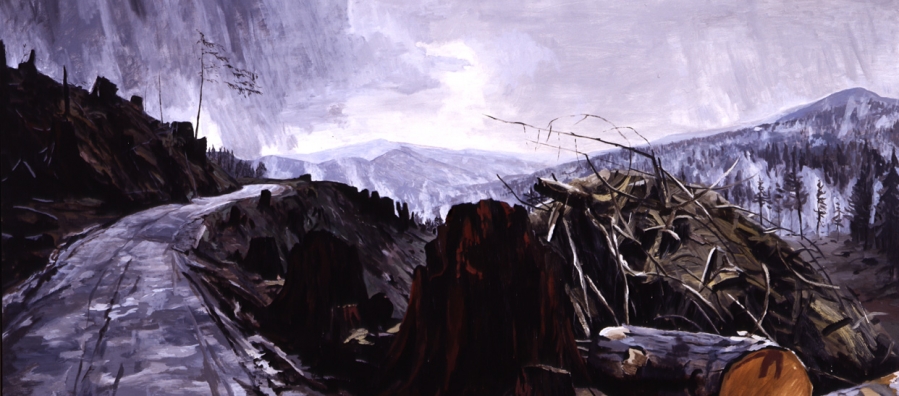 Art of the Pacific Northwest and Greater Western Region
This collection consists of works in all media created by artists who are natives of, practiced or taught in, and/or have meaningful connections to the Pacific Northwest and greater western region. The Northwest is defined by the geographical territory of Washington, Oregon, western Montana, Idaho,   Alaska, and British Columbia. The greater western region is defined as the broader surrounding geographical territory defined by the Pacific Ocean on the west, the Rocky Mountains on the east and the U.S. northern and southern borders.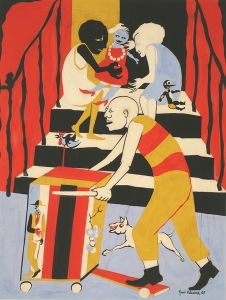 Tacoma Art Museum began building a collection in 1963 with Northwest art at its core. The first works to enter the collection were by Northwest artists Jacob Elshin, Paul Horiuchi, Beulah Hyde, and Hilda Morris. The museum's collection has continued to grow from those Northwest roots, adding works by both historical and contemporary Northwest artists. The gift of the Haub Family Collection of Western American Art in 2012 broadened the collection's scope to the greater western region.
Other key additions include:
Aloha Club Collection
The Aloha Club is a Tacoma institution, organized as a women's study group in 1892. The Club aims to promote the civic and cultural life of the community. The relationship between the Aloha Club and Tacoma Art Museum stretches back to 1971, inspired by a shared commitment to this region.
The Aloha Club originally supported art education by purchasing color reproductions of works by Old Master and Impressionist artists for use in schools. In 1948, Club members made the intrepid decision to begin purchasing original works by Northwest artists. These artworks were lent for display at various community organizations.
In 1971, the Aloha Club gifted their art collection to Tacoma Art Museum so that the works would be more accessible to the public and broaden the museum's holdings of Northwest art. In close cooperation with the museum's curators and in alignment with the museum's acquisition guidelines, the Club continues to add to this collection.
The Aloha Club Collection includes a variety of Northwest artists, from traditional to avant-garde and historical to contemporary. The Aloha Club has often selected works by emerging artists, in new media, or by historically important Northwest artists—smart choices that encourage an inclusive history of Northwest art.
Bellevue Art Museum Collection
A collection of largely Northwest artists, totaling 148 works of art. The collection was transferred to Tacoma Art Museum in 1998 as the Bellevue Art Museum divested itself of its art collection in their move to a new building and realignment of their mission.
Safeco/Liberty Mutual Collection and Washington Mutual/JP Morgan Chase Collections
In 2010 and 2016, the Museum received major gifts from these two prominent corporate collections. The acquisitions from Washington Mutual included iconic works by William Cumming, Judith Poxson Fawkes, Alden Mason, and Ambrose Patterson.
Tacoma Art Museum was a member of the Washington Art Consortium (WAC), a unique cooperative of seven museums throughout Washington State that began in 1975. WAC worked with Seattle philanthropist Virginia Wright to build a collection of post-war American works on paper and photography, which was exhibited regularly throughout Washington State and nationally. Over its lifespan, WAC accepted the donation of works from the Mary Margaret and Richard Aiken collection, facilitated the distribution of over 800 works from the Safeco/Liberty Mutual Art Collection, the oldest and most renowned corporate collection of exclusively Northwest art, and loaned artworks to numerous exhibitions at home and abroad. Although WAC has disbanded as an organization, the artworks from its collections continue to be available to the public as part of the member institutions' collections. Tacoma Art Museum holds over 130 works from the Safeco/Liberty Mutual Art Collection which can be seen here.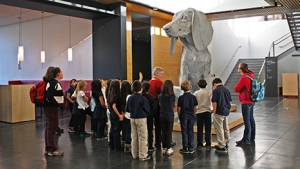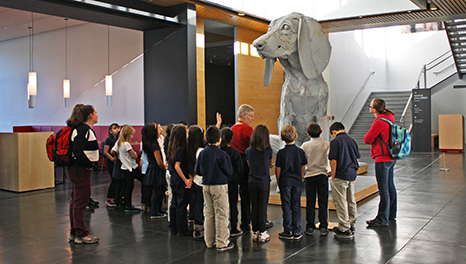 A visitor favorite is Leroy, the Big Pup, Northwest artist Scott Fife's monumental puppy made from archival cardboard, glue, and wood screws. Although Leroy is moved around the building, he can often be found in the lobby, greeting visitors as they enter the museum. Leroy was originally created for the 2004 retrospective exhibition of Fife's work at Tacoma Art Museum.
Browse TAM's Northwest Art Collection on eMuseum
---
Images: Michael Brophy (American, born 1960), January, 1997, Oil on canvas, 78 x 95 1/2 in. (198.1 x 242.6 cm). Tacoma Art Museum, Museum purchase from Laura Russo Gallery with funds from the Dr. Lester Baskin Memorial Fund, 1998.12.  Jacob Lawrence (American, 1917-2000), Brooklyn Stoop, 1967, Gouache and casein on paper, 21 1/8 x 16 1/8 in. (53.7 x 41 cm). Tacoma Art Museum, Museum purchase, 1990.7.  Scott Fife (born Moscow, Idaho, 1949),  Leroy, the Big Pup, 2004.  Archival cardboard, carpenter's glue, and drywall screws.  Tacoma Art Museum, acquired with major contributions from various donors, 2007.26.