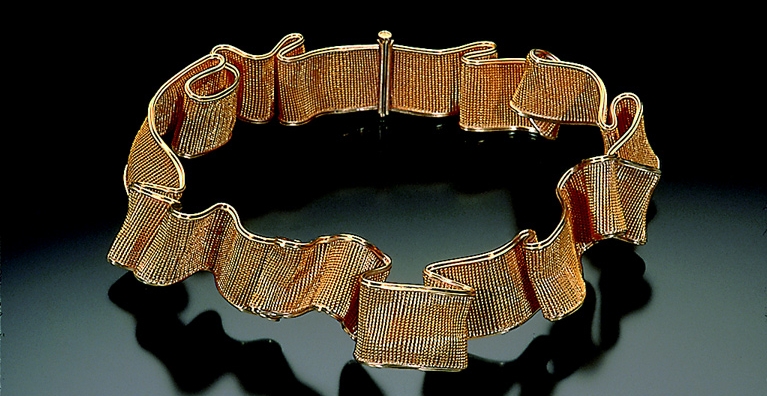 Studio Art Jewelry
Tacoma Art Museum holds an important collection of studio art jewelry by Northwest artists, spanning from the post-World War II era to the present. It includes in-depth holdings of works by Ken Cory, Flora Book, Laurie Hall, Keith Lewis, Ruth Penington, Kiff Slemmons, Ramona Solberg, and Nancy Worden as well as key works by Mary Lee Hu, Ron Ho, Coralynn Pence, and Lori Talcott. The collection is focused on Northwest jewelry artists, but includes representative works by national and international artists deemed important to providing a context for the work of the region.
TAM began collecting studio art jewelry after three successful exhibitions:  Play Disguised: The Jewelry of Ken Cory, Torch Songs: Fifty Years of Northwest Jewelry, and Under the Influence: Northwest Jewelry and Ethnographic Objects. Through the support of many individuals and the Rotasa Foundation, the Ramona Solberg Fund is dedicated to the acquisition of jewelry for the permanent collection, most recently Frozen Dreams by Nancy Worden.
Click here to browse TAM's Studio Jewelry Collection on eMuseum.
Visit the TAM Blog to learn about the new display of the museum's jewelry collection, showcasing a wide variety of works from the museum's important Northwest studio jewelry collection.
---
Image: Mary Lee Hu (American, born 1943),  Choker #83, 2000, 22-karat and 18-karat gold, 6 1/8 x 6 1/4 x 1 in. (15.6 x 15.9 x 2.5 cm). Tacoma Art Museum, museum purchase with funds from the Rotasa Foundation and Susan Beech with additional contributions from the Art Jewelry Forum, Sharon Campbell, Lloyd E. Herman, Karen Lorene, Mia McEldowney, Mobilia Gallery, Flora Book, Ramona Solberg, Judy Wagonfeld, Nancy Worden, and the Ramona Solberg Endowment, 2006.10