American Prints and Drawings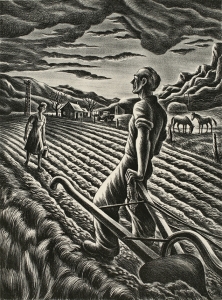 The museum's collection of American prints includes strengths in regionalist images from the mid-20th century (the Schneider Collection) as well as works by artists of international stature, such as Allan D'Arcangelo, Robert Indiana, Vito Acconci, Adolph Gottlieb, Ellsworth Kelly, Barbara Kruger, Sherrie Levine, and Ed Ruscha.
Carolyn Schneider Collection
This collection contains 397 prints and drawings by American artists collected primarily between 1930 and 1960 by Carolyn Schneider. Carolyn Schneider worked for the University of Puget Sound for several decades and was an active supporter of artists and artistic causes in Tacoma. She purchased most of the works through the Associated American Artists gallery in New York.  Artists represented came from all over the United States and include such well-known figures as Thomas Hart Benton, Reginald Marsh, and Raphael Soyer and American printmaking masters such as Paul Landacre and Howard Cook. The collection was acquired through a gift/purchase agreement with collector Carolyn Schneider in the 1970s. Colonel A. H. Hooker, Jr. and Mrs. Ellen Hooker donated the funds for the purchase of the collection and Carolyn Schneider also donated several works. Colonel Hooker opened the Hooker Chemical plant on the Tacoma Tideflats in 1929. He and his wife Ellen also owned a large cattle-breeding ranch in McKenna, Washington.
Click here to browse works from TAM's Collection on eMuseum
---
Image Credit:  Carlos Andreson,  Western Saga, 1943.  Lithograph,  15â…ž  í— 11 ½  inches.  Tacoma Art Museum, Carolyn Schneider Collection, Gift of Col. and Mrs. A. H. Hooker, 1970.102.  Photo credit: Richard Nicol.