Japanese Woodblock Prints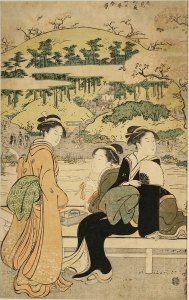 The majority of the Japanese woodblock prints in the museum's collection are from a genre called ukiyo-e, which means, "pictures of the floating world." The genre was produced between the seventeenth and the late nineteenth centuries and features motifs of landscapes, the theater, and city life.
Constance Lyon Collection
The notable collection of Japanese woodblock prints at Tacoma Art Museum is largely the gift of a single collector, Constance R. Lyon (née Rice). Dr. Roger Keyes, one of the world's foremost experts on ukiyo-e, helped Lyon shape her collection. The Lyon Collection consists of over 200 prints ranging in date from the seventeenth to the early twentieth century.
Al and Betsy Buck Collection
In 2006, Al and Betsy Buck added to the museum's collection by donating fifty-two Japanese woodblock prints dating from the early nineteenth-century to the early twentieth-century. Al Buck is a direct descendant of Alfred E. Buck, U.S. ambassador to Japan from 1898 to 1902. Despite their age, the prints are in nearly pristine condition because the family carefully stored them for more than a century. Highlights of the collection include prints documenting military campaigns from the Meiji Period (1868–1912) and images of the Westernization of Japan of the late nineteenth century. The collection also includes a number of scenes from the popular Chūshingura (Treasury of the Forty-seven Loyal Retainers), often referred to as The Tale of the Forty-seven Rōnin.
---
Utagawa Hiroshige II (Japanese, 1826-1869), Yoshida, 1863, Woodblock print, 14 1/8 x 9 5/8 inches (35.9 x 24.4 cm). Tacoma Art Museum, Gift of Al and Betsy Buck in memory of Alfred Eliab Buck and Ellen Baker Buck, 2006.19.8