Works on Paper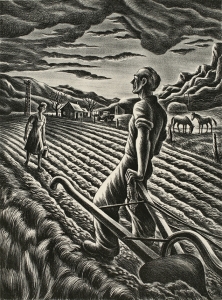 The museum's collection of American prints includes strengths in regionalist images from the mid-20th century as well as works by artists of international stature, such as Allan D'Arcangelo, Robert Indiana, Vito Acconci, Adolph Gottlieb, Ellsworth Kelly, Barbara Kruger, Sherrie Levine, and Ed Ruscha.
Schneider Collection
The Schneider Collection contains of 397 prints and drawings by American artists collected primarily between 1930 and 1960. These works were published through the Associated American Artists gallery in New York and available by subscription. Artists represented came from all over the United States and include such well-known figures as Thomas Hart Benton, Reginald Marsh, and Raphael Soyer and American printmaking masters such as Paul Landacre and Howard Cook.
Washington Art Consortium
Tacoma Art Museum is a member of the Washington Art Consortium (WAC) which jointly owns and maintains 272 works on paper by leading American artists. WAC is a unique non-profit cooperative comprised of seven major art museums located in four main urban centers and three primary universities in Washington State. The first organization of its type in the nation, the Consortium began in 1975 when its founder, Seattle philanthropist and modern art collector Virginia Wright, worked with five Washington State museums to secure funding from the National Endowment for the Arts to build a collection of post-war American art. The member institutions jointly own four collections of American works on paper and photography. Access further information and WAC's online catalogue of the collection here.
Image Credit: Carlos Andreson, Western Saga, 1943. Lithograph, 15⅞  × 11½ inches. Tacoma Art Museum, Carolyn Schneider Collection, Gift of Col. and Mrs. A. H. Hooker, 1970.102.  Photo credit: Richard Nicol.