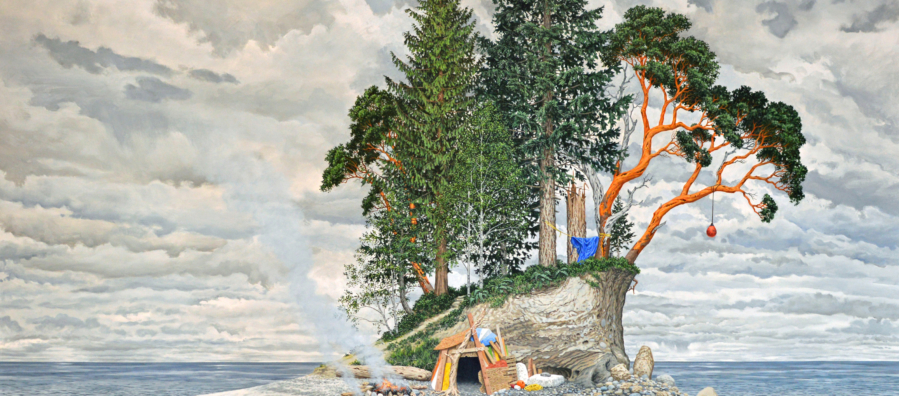 A Note from Artist Jeremy Mangan
December 1, 2016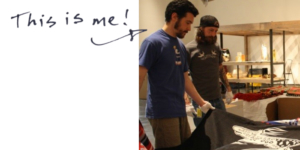 Have you ever been at TAM when one of the galleries is "closed for installation," and peeked over the barrier? If you have (it's ok!), you may have seen me hanging a painting, unpacking a sculpture, or going up and down on a scissor lift adjusting lights.
As both a professional artist and a part-time TAM crew member, I have had the unique opportunity to work behind-the-scenes and experience what it truly takes to mount a major exhibition at Tacoma Art Museum. I assure you it's no small feat.
Working with the TAM crew for over eight years, I have been amazed by the team's incredible resourcefulness and ingenuity. Every show brings unique challenges. I remember for one exhibition in 2012, we had a two-dimensional piece that was so long it wouldn't fit in the freight elevator. To get it into the gallery we had to build a custom rolling cart, and the entire crew wheeled it up Hood Street and into the museum.
My largest painting in NW Art Now @ TAM, Pacific Northwest Desert Island, was about isolation—whether voluntary or forced, pleasant or lonely, physical or psychological—and our unique relationship to it in this corner of the country. It's currently on loan to TAM, and is still on view above the staircase!
Creative—and careful—problem solving: that's TAM's specialty. But this great care and expertise has a cost.
So today I am writing to ask, will you please consider a year-end gift to support the TAM exhibitions crew?
Your generosity enables the crew to paint the walls a different color for each exhibition, build custom display furniture (nearly every pedestal, cabinet, and riser you see in the museum was built in-house by the crew!), carefully handle and install artworks, and even work with lenders and artists to get their pieces in on time for installation and publication.
As you can imagine, artists put a lot of faith in the institutions that display our work. Tacoma Art Museum has returned that faith in me and championed my work as an artist.
Meeting TAM Chief Curator Rock Hushka opened new doors. Over  the  years Rock has introduced me to a number of collectors, curators, and gallery dealers—an amazing network of good people who deeply appreciate art and artists.
Without the help and support of Rock and TAM, I would not be where I am now as an artist. In fact, nearly every positive turn in my career over the past eight years can be traced back to TAM in some way.
 The museum first showed my work in 2012 in its 10th Biennial exhibition, where I was honored to receive a People's Choice Award. And this past spring, I was thrilled to be featured in NW Art Now @ TAM, an exhibition which highlighted the broad diversity and incredible talent of artists in the region.
As an artist, how my work is handled is of great concern. As a crew member, I know for certain that TAM takes the very best care possible of my work.
Crafting an Exhibition
For NW Art Now @ TAM, the TAM team accomplished the following over a period of 5 months:
Coordinated with 24 artists and lenders
Picked up artwork in 5 cities
Painted 6 walls with 10 gallons of paint
Built 10 custom artwork mounts and 8 pieces of custom furniture
Worked with 11 of the exhibiting artists to install their work
Installed 31 flatworks and 9 sculptures
Installed 3 projectors, 2 audio players, 1 TV, 2 custom lights, and 1-15 foot long neon sign
Fumigated 28 pieces of found wood
Constructed 30 feet of scaffolding
Please support this "behind-the-scenes" work with a generous gift today.
I am deeply grateful for all that TAM has done to help advance my career as an artist. Which means, ultimately, I'm grateful for you. Your patronage is at the heart of all of this. I hope that you will consider supporting TAM with a year-end gift to ensure that the museum can mount spectacular exhibitions with tremendous care for years to come.
Warm regards,


Jeremy Mangan
P.S. This is your last chance to support TAM in 2016 by making a 100% tax-deductible gift by Dec. 31st!
---
Top to bottom: Jeremy Mangan, Pacific Northwest Desert Island (detail), 2016. Oil and acrylic on canvas, 84 x 108 inches. Collection of Sands McKinley and Rita Herrera Irvin.  Jeremy Mangan (left) and Ben Davis in the galleries.