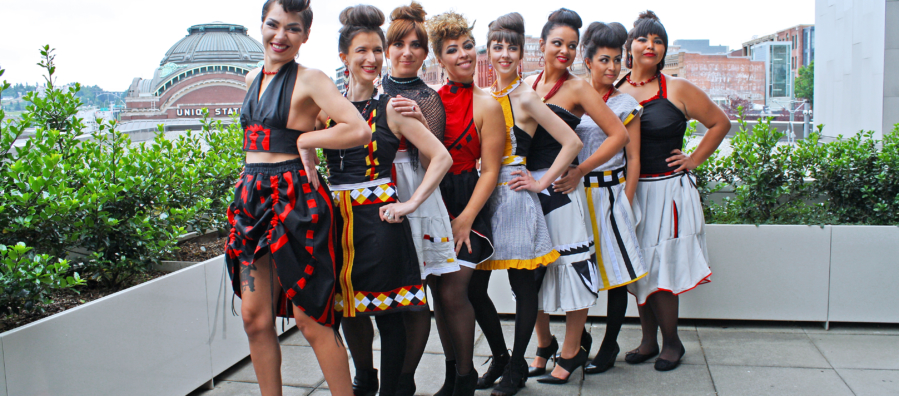 Call for Native Fashion Designers
The In the Spirit Northwest Native Festival Fashion Show brings talented regional designers to showcase their collections at TAM. This year, the fashion show will feature three Native fashion designers, each showing between 7 and 15 looks. Designers working across a spectrum of styles and aesthetics—from street wear to gowns to menswear—are encouraged to apply.
Selected designers will receive a $500 honorarium. Designers traveling from outside of the state will be provided a hotel room but no additional reimbursement for travel expenses.
Application Guidelines
All application materials must be received by Tuesday, June 27, 2017. Only emailed applications will be considered.
Eligibility
The In the Spirit Northwest Native Festival Fashion Show is open to designers residing in Washington, Oregon, Idaho, Montana, Alaska, and British Columbia, Canada. Designers should be currently active, demonstrating an ongoing pattern of producing and presenting work. All applicants must be 18 years of age or older at the time of application.
Designers agree to:
Participate in the fashion show at TAM on Saturday, August 19, 2017
Secure models for their looks (Native models preferred)
Attend fashion show logistics meeting at TAM (date TBD)
Optional: Vend at the TAM arts market during the festival
Application Materials
All applicants must submit the following materials:
Current email address and phone number
Resume
Artist statement (1000 words or less)
5-10 images of previous work
Links to website and social media handles (if applicable)
Proof of tribal enrollment or alternative documentation
Please email the materials listed above to Britt Board at bboard@tacomaartmuseum.org on or before Tuesday, June 27.
Selection Process
Applicants must fulfill the application  requirements by Tuesday, June 27. Event organizers and a member of the In the Spirit Northwest Native festival advisory committee will review all applications and select designers. Applicants will be notified by Friday, June 30.
Selection Criteria
Designers will be selected by the quality and strength of past work as demonstrated in the submitted application materials.
Only Native American artisans will be accepted for this event. Eligibility requirements are in compliance with the Indian Arts and Crafts Act of 1990 (P.L. 101-644). Under the Act, an artist must be a member of a state or federally recognized tribe or be certified as a tribal artisan by a tribe. You must send proof of enrollment.
About the In the Spirit Northwest Native Festival
The Washington State History Museum and Tacoma Art Museum are partnering to host the first joint In the Spirit Northwest Native Festival in Tacoma, Washington on Saturday, August 19, 2017, 10 am – 5 pm. This free festival will include exhibitions, performances, activities, and an arts market at both museums, as well as a contemporary Native fashion show at TAM. Click here for more information.