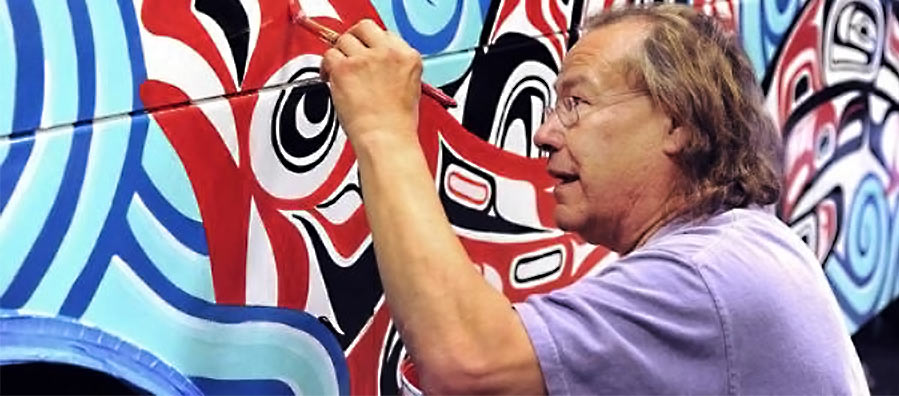 Marvin Oliver
Currently living in Seattle, Marvin Oliver is one of the Northwest Coast's foremost contemporary sculptors and printmakers with a career spanning over 40 years. Oliver's monumental public artworks have been installed throughout the state of Washington and the United States, Canada, Japan, and Italy. He is a Professor in the American Indian Studies Department at the University of Washington, and  teaches studio classes in Northwest Coast Design. His glass sculpture Orca is permanently on view in TAM's library. To see more of his work, check his website: www.marvinoliver.com
---
Tell us about your work as an artist, printmaker, and professor?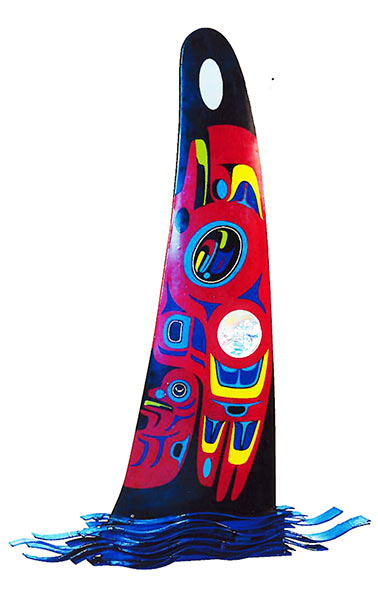 I work in many mediums: glass, bronze, steel, and I've done a lot of public art. When doing my work, I would look at the project and see what materials fit that venue.
As for the print show, that goes back to my dad. After I received my bachelor's degree my dad (the founding father of the canoe journey in Seattle) said why don't you go up to the University of Washington and get your graduate work done with Bill Holm and study your own culture as an artist. In those days there weren't many Native students, not just at UW but in the whole country. After I graduated, the University of Washington called me within a year and asked me to be a teacher. They hired me right then and I've been there ever since.
When I first started teaching, I said to myself it is really such an honor to teach here and I want to honor the Native students that graduate. At the end of the year we had a party out at Daybreak Star with Bernie Whitebear, we had six graduates and I gave them all prints. It was in remembrance of their accomplishments, their trials and tribulations, and what it takes to get a degree.   I said, that was fun, lets do it again next year. It just started getting bigger and bigger. Now, we've got students in medical school, law school, masters programs, and doctorate programs. Some of these Native students are now on their third print. The students inspire me to think about the next print and explore new effects. I try to always be a little more innovative, to make each new print a little more refreshing for the next graduates.
Why is western American art relevant in the Northwest?
TAM is a regional museum in regards to displaying Northwest art, but I also think it is important that you don't just consider yourselves a regional museum. You are on the cusp of an area that has become much more international now. There is a growing influx of tourists and people coming to the Northwest, so I think it is fitting for the museum to have the western collection. It is a collection that could interlace and supplement other events and collections you have in the future.
How can we address the inaccurate images in our collection?
Put it in perspective that these are individual people, not just one collective group with one understanding. These are not just objects that you have on the wall. Artists created these works and you need to know who these artists are. Where did they come from, what was their purpose, what were they attempting to portray? Asking these questions is really critical because they all have different intentions, you're always going to get different answers.   Even if you don't like an artwork, know who it is portraying, know who did it, and why they did it. I think that helps a lot to answer some of those stereotypical questions that might arise.
To have this collection here is really valid and can help educate Natives and non-Natives too on works that have some controversial imagery. They all have some value regardless. Right or wrong, whether you like the art or not.
What can we learn from western American art?
Education is critical. I think there is an underlying understanding that this is why people go to museums—to become educated. That's why I go. For me, as an artist, I walk around this collection and look at technique: the color, the composition, how it is painted. I am not so much grasped by the theme of the art so much as the application. I am less interested in whether art is stereotypical. The social commentary part doesn't matter to me so much. I can take those images in context, I don't feel threatened by the works here.
What can our institution do to support Native peoples?
I would like to flip the question. The museum reaching out to the community, that's one way, but it is also important for the community to come into the museum and offer the museum something. Host events like canoe journey, show Native regalia and culture in an art context, and you'll have all the help and support you need from the Native community here.
---
Image credits: Marvin Oliver paints a fish on the side of a bus. AP Photo/Ketchikan Daily News, Hall Anderson.  Marvin Oliver (born 1946),  Orca, 2002. Watercut, fused, and polished glass with cast glass inlay and steel base, 90 í—  64 í—  22 inches. Tacoma Art Museum, Gift of Norma and Leonard Klorfine.  Marvin Oliver  with his installation  Mystical Journey, at Seattle Children's Hospital. Image courtesy of the artist.