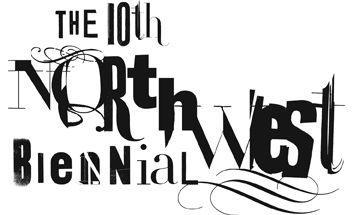 January 21–May 20, 2012
In honor of Tacoma Art Museum's 75th Anniversary and to commemorate the milestone of two decades of biennial exhibitions, The 10th Northwest Biennial will examine the vital questions of who we are as residents of the Pacific Northwest, what we look like, and what are our aspirations for our communities. The Biennial will seek artworks that address the critical issues that underpin the larger issues of identity and community including the fluidity of regional identity in an age of global capitalism, increased urban migration, and the virtual diffusion of a discernible regional style. Because of the extraordinary complexities of these issues, The 10th Northwest Biennial will focus on the newly revitalized and resurgent forms of interdisciplinary art practices.
Although its antecedents may be traced back to artists as early as the 1960s, interdisciplinary art practice has increasingly demanded the attention of a surprisingly broad range of artists, who eagerly mix traditional art and craft forms with conceptual structures borrowed from a dizzying array of disciplines. These artists and collaborative teams have greatly expanded their expressive vocabularies through a voracious appetite for alternative materials and forms. The artists engage in the construction of experiential moments, which expand the possibilities of art's discursive spaces beyond the traditional expectations of the artist/audience exchange.
"Interdisciplinary art" for the purpose of The Biennial will be broadly defined to include all art forms encompassing mixed media installations, video and sound works, performance, and social practice as well as traditional formats such as painting and sculpture. The unifying conceptual framework of The Biennial will be that art works will be deeply informed by disciplines and areas of studies in addition to the visual arts.
As Tacoma Art Museum seeks to broaden its geographical definition of the Northwest to encompass artists working in British Columbia, The 10th Northwest Biennial will offer a provocative look at the divergent practices of artists on both sides of the international border.
A major change in the selection process from previous Northwest Biennials is the inclusion of a select number of artists by invitation. The co-curators invited artists to participate in The Biennial to create the foundation of an exhibition that captures the richness and variety of artistic practice and accomplishment within the scope of The Biennial's theme.
Applications were juried by Renato Rodrigues da Silva, PhD, independent curator and art historian, Vancouver, British Columbia, and Rock Hushka, Director of Curatorial Administration and Curator of Contemporary and Northwest Art at Tacoma Art Museum.
---
Artists
Cynthia Camlin (Bellingham, WA)
Pamela Caughey (Hamilton, MT)
Dana Claxton (Vancouver, BC)
Harrell Fletcher (Portland, OR)
Flicker Art Collabratory [Kenneth Newby and Aleksandra Dulic] (Vancouver, BC)
Wynne Greenwood (Seattle, WA)
Wendy Given (Portland, OR)
Gray & Paulsen [Anna Gray and Ryan Wilson Paulsen] (Portland, OR)
Laura Hughes (Portland, OR)
Allison Hyde (Eugene, OR)
Abraham Ingle (Portland, OR)
Ariana Jacob (Portland, OR)
Jeff Jahn (Portland, OR)
Sean M. Johnson (Seattle, WA)
Susie J. Lee (Seattle, WA)
Benjamin Love (Boise, ID)
Kirk Lybecker (Portland, OR)
Susie J. Lee (Seattle, WA)
Benjamin Love (Boise, ID)
Kirk Lybecker (Portland, OR)
Jeremy Mangan (Fife, WA)
Matt McCormick (Portland, OR)
Kelly Neidig (Portland, OR)
TJ Norris (Portland, OR)
Paul Pauper (Seattle, WA)
Juliette Ricci (Tacoma, WA)
Paul Rucker (Seattle, WA)
Reza Michael Safavi (Pullman, WA)
Seattle Catalog LLC [Gretchen Bennett, Matthew Offenbacher, and Wynne Greenwood] (Seattle, WA)
Henry Tsang (Vancouver, BC)
Matika Wilbur [Swinomish/Tulalip] (Seattle, WA)
Jin-me Yoon (Vancouver, BC)
Joshua Zirschky (Portland, OR)
---
Jurors
Rock Hushka is Director of Curatorial Administration and Curator of Contemporary and Northwest Art at Tacoma Art Museum. He also serves as an Affiliate Assistant Professor at the University of Washington. Since joining Tacoma Art Museum, Hushka has curated more than 50 projects including Sparkle Then Fade,The Forty Part Motet by Janet Cardiff,   A Reworking of Spem in Alium 1573 by Thomas Tallis, and the nationally touring Lewis and Clark Territory: Contemporary Artists Revisit Place, Race, and Memory. He has completed eleven major exhibition and catalogue projects including The Romantic Vision of Michael Brophy, Where Sky Meets Earth: The Luminous Landscapes of Victoria Adams,Honoring 15 Years of Neddy Artist Fellows, Dale Chihuly's Northwest and two Northwest Biennials. Under his leadership of the artistic program, Tacoma Art Museum has received major grants from the National Endowment for the Arts for a handbook of the Northwest art collection and a 2010 Curatorial Research Fellowship with Dr. Jonathan Katz from Andy Warhol Foundation for the Visual Arts   for the forthcoming exhibition Art, AIDS, America.
Renato Rodrigues da Silva is an independent curator and art critic based in Vancouver, British Columbia. He holds a Ph.D. in Art History from the University of Texas at Austin.   He published the book Modern Photography in Brazil, now in the 2nd edition, and besides several articles in international magazines such asLeonardo Journal, Third Text, Fillip, BorderCrossings, among others. His curatorial proposals focus on the notions of global art and multiculturalism, and he is particularly interested in the contemporary art produced in Canada, United States and Latin America. Rodrigues da Silva is currently a visiting scholar at the Latin American Studies Program of Simon Fraser University, Burnaby, British Columbia.
---
Awards
The jurors will award one artist a cash prize of $1,000 for artistic excellence. During the run of the exhibition, visitors to Tacoma Art Museum will be asked to help select a People's Choice Award. The artist receiving the most public votes will receive a cash award of $500.
---
Generous support provided by the Paul G. Allen Family Foundation, Russell Investments, Washington State Arts Commission, and the National Endowment for the Arts. The 10th Northwest Biennial is organized by Tacoma Art Museum.