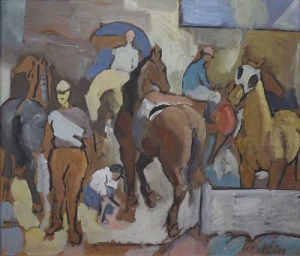 Collecting for the Future: The Safeco Gift and New Acquisitions
June 25, 2011 – January 2012
Over the last four years, Tacoma Art Museum has added more than 400 works of art to its permanent collection, most notably the large donation of works from Safeco Insurance (a member of the Liberty Mutual Group) and Washington Art Consortium. This summer, the museum shares many of these important works of Northwest art with the community in Collecting for the Future: The Safeco Gift and New Acquisitions.
"The works on view include a wide range of media and date from the early 1900s to today," said Margaret Bullock, Curator of Collections and Special Exhibitions at Tacoma Art Museum. "These artworks demonstrate the richness and diversity of the artists working throughout the Pacific Northwest."
The exhibition showcases paintings,  video, conceptual art, glass, studio art jewelry, photography, ceramics, fiber arts, works on paper, and sculpture. It reveals some of the exciting directions that the museum's collection is growing and offers a behind-the-scenes glimpse into progress toward Tacoma Art Museum's goal of building the premier collection of Northwest art.
Many of the newly acquired artworks came from the Safeco Art Collection, founded in 1973, dedicated to exclusively acquiring Northwest art. In 2009, when Safeco Insurance became part of the Liberty Mutual Group, the company sought to disperse the collection. An innovative solution was developed to keep the collection intact and share it among the members of the Washington Art Consortium (WAC), of which Tacoma Art Museum is a member. In total, more than 800 works from the Safeco Art Collection were donated to WAC, an action that represents Safeco and Liberty Mutual's continued commitment to the Northwest community. The donation includes works of art from prominent Northwest artists including Sonja Blomdahl, Francis Celentano, Harvey K. Littleton, Ken Shores, Layne Goldsmith, and Carl T. Chew.
"Part of the museum's ten-year plan is to expand our collection of Northwest art and to document important art historical moments and influential figures from the area," said Stephanie A. Stebich, Director of Tacoma Art Museum. "The incredible generosity of many individuals and groups, including the Safeco Insurance Company, is amazing and inspiring. The Safeco gift contributes significantly to telling the story of Northwest art."