Edo to Tacoma: Japanese Woodblock Prints from the Collection
September 4, 2010  

—  February 13, 2011
Envelop yourself in the history and culture of Japan through one of the centerpieces of Tacoma Art Museum's permanent collection—Japanese woodblock prints.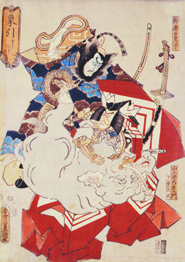 The strength and range of the museum's collection of Japanese woodblock prints spans three eras of Japanese art: the familiar and popular ukiyo-e prints of the Edo Period (1600–1868); the intriguing images of the Meiji Period (1868–1912) that reflect the impact of the West on Japan; and the works of 20th century printmakers who dealt with the legacy of ukiyo-e in the "New Print Movement" (Shinhanga) or with the impact of western ideas about the role of the individual artist in the modern "Creative Print Movement" (Sosakuhanga).

As the seasons change, so do the works of art on the walls of the Edo to Tacoma: Japanese Woodblock Prints from the Collection exhibition. Beginning Wednesday, November 24 visitors can view an entirely different set of remarkable and unique Japanese woodblock prints from Tacoma Art Museum's collection.
"This rotation goes further into the depth and scope of our collection of woodblock prints, while maintaining images that are familiar and loved by so many," said Zoe Donnell, Curatorial Coordinator for Tacoma Art Museum who curated the Edo to Tacoma exhibition.
The new face to Edo to Tacoma presents nearly 70 rarely seen works of art from three eras of Japanese art (ranging from 1680 through the 1950s) as well as some nice surprises. In honor of the winter season and the approaching New Year, many of the works depict snowy scenes or New Year's Day traditions. There are also themes of women and the roles they played throughout Japanese history, nature scenes, actors in their roles, and even some Japanese mythological stories. There is also a chance to see first-hand the changing techniques, skill levels, and influences of woodblock artists including masters such as Hishikawa Moronobu, Suzuki Harunobu, Katsushika Hokusai, and Utagawa Hiroshige.
Visitors can feel the type of Japanese paper used to create woodblock prints and view the different types of printmaking tools and carved woodblocks needed to complete the printing process. In order to protect the works of art and limit their exposure to the harmful effects of light, the light levels in the gallery will be kept low.