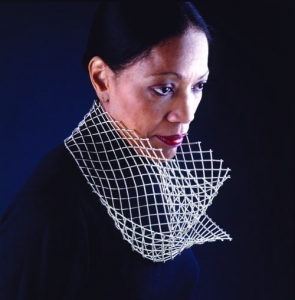 The Eloquent Silver Curve: The Jewelry of Flora Book
July 30, 2011 – February 5, 2012
Flora Book has combined her passion for elegant jewelry with her love of silver and life-long study of textiles. Unlike many other Northwest jewelry artists who favor narrative content and use found objects, Book has focused almost exclusively on the expressive possibilities offered by meticulous strands of slender silver beads.
Throughout her career, she has focused on constructing refined compositions that evoke the traditional functions of jewelry but also drape and flow with the wearer's movements. Book describes her work as an effort to transform the hard metal beads into something soft and flexible, like a piece of fabric. Through her techniques, Book realized her vision to create jewelry that both shimmers like water and drapes like fabric—most eloquently seen in a work such as Cascade, on view in this gallery.
For most of the last decade, Book's work has evolved into other textile processes such as knitting and machine stitching. These works continue her exploration of the contrast between soft and hard while embracing an aesthetic that is more relaxed and expressive. Her use of reclaimed Mylar from potato chip bags or knitted silver chain allows the forms to be less rigid than her earlier works. Yet, even with these less structured forms, Book cultivates her signature elegant style through the eloquent silver curve.