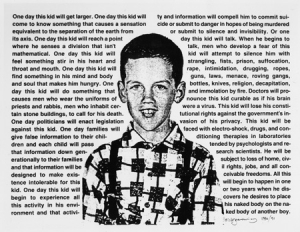 It Gets Better
Closed April  29, 2011
Tacoma Art Museum presents a selection of works by David Wojnarowicz with online access to the It Gets Better Project in the George and Mary Davis Gallery. Only on view through April, the installation will include a computer station where people can learn more about the It Gets Better Project and about the life and art of Wojnarowicz.
"We are presenting this pairing because it demonstrates how contemporary art and social media may be intertwined and adapted to address critical issues in contemporary society," said Rock Hushka, Director of Curatorial Administration and Curator of Contemporary and Northwest at Tacoma Art Museum. "The It Gets Better Project updates themes that David Wojnarowicz articulated a generation ago. Dan Savage's use of social media relates to the efforts of artists like Wojnarowicz who use art to articulate their concerns and observations to construct a better, safer society."
The works in this gallery will serve as one focal point for continuing respectful dialogues, especially for local youth. Later this spring, April's Third Thursday (April 21), will bring together a variety of community organizations to discuss how individuals may participate in creating a stronger, vibrant, and safer community
David Wojnarowicz's Untitled [One Day This Kid…] with the It Gets Better Project is coordinated with museum programming to engage diverse audiences on complex social topics. Like Mighty Tacoma: Photographic Portrait 2010 and American Chronicles: The Art of Norman Rockwell, this combination of artwork and social media help us understand how art can play a critical role in the dialogues about how we see ourselves in America today.
David Wojnarowicz's work in progress titled Fire in my Belly has been the subject of intense national scrutiny after it was removed from Hide/Seek: Difference and Desire in American Portraiture, an exhibition in the Smithsonian's National Portrait Gallery in Washington, D.C. Tacoma Art Museum believes that freedom of expression is essential to the health and welfare of our communities and our nation. In this case, that takes the form of the rights and opportunities of art museums to present works of art that express different points of view.
Tacoma Art Museum's presentation of Wojnarowicz's Untitled [One Day This Kid…] with the It Gets Better Project is an opportunity for members of our diverse community to have a safe space for respectful and safe conversations, and for the museum to continue to change lives through seeing, creating, and exploring art together.
About the It Gets Better Project
The It Gets Better Project was started in September 2010 by Seattle columnist and author Dan Savage. He created a YouTube video with his partner Terry Miller in response to a number of students committing suicide after being bullied in school and to inspire hope for young lesbian, gay, bi-gender, and transsexual (LGBT) people facing harassment. They wanted to create a direct and personal way for supporters everywhere to tell LGBT youth that, yes, it does indeed get better. Click here to listen to Dan Savage, the founder of the It Gets Better Project, discuss the project on NPR.
Over the course of just a few weeks, the It Gets Better Project turned into a worldwide movement, inspiring nearly 10,000 user-created videos and more than 30 million views. The project has received submissions from celebrities, organizations, and politicians including President Barack Obama, Secretary of State Hillary Clinton, Ellen DeGeneres, Suze Orman, the staffs of Google, Facebook, Pixar, and many more.
About David Wojnarowicz
David Wojnarowicz (pronounced voy-nah-ROH-vitch) was a critically acclaimed artist working in New York City who emerged from the influential East Village scene in the late 1970s. Propelled by his personal experiences with HIV/AIDS, homophobia, and the suffering and deaths of his friends and colleagues, Wojnarowicz developed a wide-ranging artistic practice, including photography, collage, painting, film, performance, sculpture, and writing.