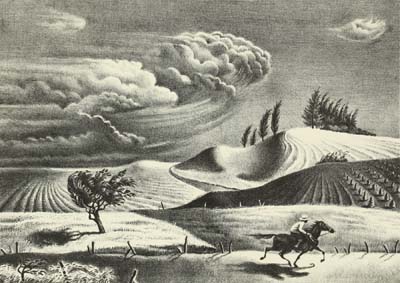 At Home Across America: Scenes from the 1930s to 1950s in Prints
November 19, 2011 – February 26, 2012
The 1930s through the 1950s were a period of great changes in America. The nation suffered through an economic depression in the 1930s, a world war in the 1940s, and dealt with the aftermath of World War II as well as the growing shadow of nuclear and environmental threats during the 1950s. Associated with these historical events were major shifts in the American population from small towns to cities and from a primarily rural way of life to an urban one.
The arts of this period reveal a nation struggling to redefine itself while feeling intense nostalgia for how life used to be and searching for uplifting or comforting images. The most common subject for many artworks is the American Scene, that is pictures of daily life—particularly rural life—in different regions of the country. At Home Across America showcases a variety of these images through prints that highlight America's unique characteristics and celebrate the nation's strengths.
Most of the works in this exhibition were printed and published by Associated American Artists (AAA), a gallery established in New York City in 1934 that marketed art to the average American rather than wealthy collectors, first in the form of affordable prints and later home furnishings and accessories.   Works were sold through the gallery, by subscription, and also marketed directly via magazines. AAA published over 2500 prints by both prominent and lesser-known mostly American printmakers.
This exhibition is the last in the extended series celebrating the museum's permanent collection during its 75th anniversary year. The museum's collection of almost 400 American prints was assembled by museum patron Carolyn Schneider and purchased for the museum by Colonel and Mrs. A.H. Hooker in 1970.