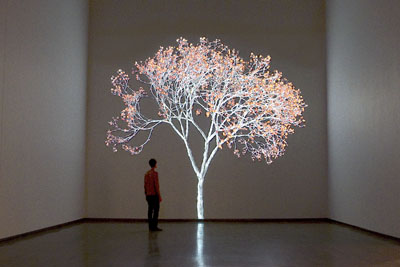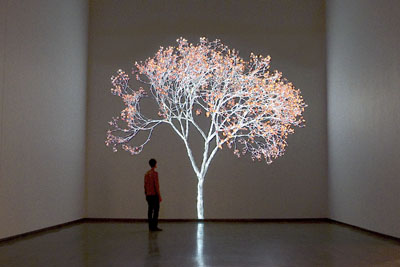 Shimmering Tree: A Projection by Jennifer Steinkamp
November 9, 2013–January 26, 2014
Immersive Artwork of Digital Media Pioneer Transforms Gallery Into A Virtual Natural Wonderland
As the seasons change, Tacoma Art Museum presents a meditation on the inevitability of change from digital media pioneer Jennifer Steinkamp. Shimmering Tree: A Projection by Jennifer Steinkamp fabricates a vividly seductive digital artwork titled Mike Kelley that charts the passage of time by following the path of a single tree as it cycles through a year of change in 11 minutes. Using Steinkamp's graceful projection as a touchstone, the work's beauty and symbolism remind us of the potential of art to affect lives and inspire great ideas.
Jennifer Steinkamp created the projection Mike Kelley in 2007–08 to honor her late mentor and teacher, Los Angeles-based artist Mike Kelley, with a symbolic portrait. The tree transforms throughout the four seasons as though blown by unpredictable winds, causing the branches to twist and clench.
"I've made different series of trees and this one is kind-of abstract," said digital artist Jennifer Steinkamp in a 2012 interview. "It's a little edgier, like Mike is, and a little more black-and-white, like his drawings." (watch the full interview here)
Mike Kelley was created using 3-D modeling software and Photoshop to add detail and color to the tree. For this installation, Steinkamp visited Tacoma Art Museum to determine the placement and size of the projection. Using the 4,000-square-foot Annette B. Weyerhaeuser gallery with its 35-foot ceilings and unique architecture, Steinkamp scaled the projection to activate the entire gallery space. The single artwork, which overtakes the expansive gallery prompts visitors to think about the relationship between architectural space, motion, perception, and natural forces.
"I first saw one of Jennifer Steinkamp's trees several years ago," said Stephanie A. Stebich, Director of Tacoma Art Museum. "It was mesmerizing…both familiar and unnerving. Small children ran toward it and danced along the wall reaching for the branches that moved above them. It is not a piece one forgets easily."
Steinkamp, who lives in Los Angeles and teaches at UCLA, is one of the leading artists of her generation. Since her first one-person exhibition at a gallery in Hollywood in 1988, her works have been shown and collected by institutions around the world, including not only museums such as the Museum of Fine Arts, Houston, the Istanbul Modern in Constantinople, Turkey, and the Los Angeles County Museum of Art and the Museum of Contemporary Art in Los Angeles, but also installation such as the Fremont Street Experience in Las Vegas, the Experience Music Project in Seattle, and as part of the stage design for two U2 concert tours.
Shimmering Tree: A Projection by Jennifer Steinkamp was organized by Tacoma Art Museum. Mike Kelley is generously loaned by the Museum of Fine Arts, Houston. We also acknowledge the generosity of Jennifer Steinkamp and her studio for assistance with this exhibition. This exhibition is generously sponsored by The Boeing Company and Propel Insurance, and is supported, in part, by a grant from the Washington State Arts Commission and the National Endowment for the Arts.