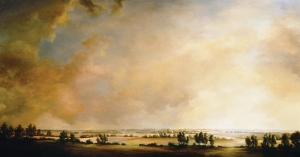 Where Sky Meets Earth: The Luminous Landscapes of Victoria Adams
July 10 — October 3, 2010
Somewhere between the soothing and the sublime, the work of landscape artist Victoria Adams offers a respite from our busy lives. Tacoma Art Museum is proud to present Where the Sky Meets the Earth: The Luminous Landscapes of Victoria Adams from July 10 through October 3, 2010. Adams, a local artist living on Vashon Island, paints rich, panoramic views of sky and land, untouched and unrestricted by humans.
The exhibition features a compelling survey of Adams' paintings, with works ranging from 1992 to present. Several new works, created specifically for this exhibition, will be also featured.
Victoria Adams' work follows the long tradition of landscape artists, from the European masters to American Luminist and Hudson River artists. She draws inspiration from the Pacific Northwest and "fragments of actual photographed scenes, to memories and daydreams, all filtered through the influence of the historical landscape tradition." Her work reaffirms the nature that we have kept pristine, yet mourns the countryside that we have lost. In her own words, Victoria Adams reminds us that "with the destruction of the natural landscape, landscape painting can provide a venue for exercising our innate need to connect with nature."
Adams' paintings evoke the deep desire for that perfect moment while also evoking the psychological impact of the idealized landscape, both of which have been deeply conditioned in American culture.