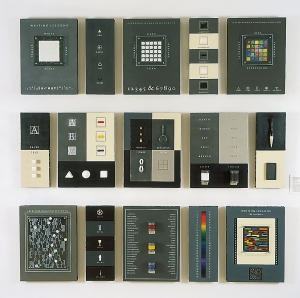 Speaking Parts: Conversations between

Works in the Collection
Closed January 17, 2010
How do museums decide what artworks to choose for the permanent collection? The process is complex but at its most basic the works in the collection need to relate to each other in a variety of ways. Those connections can be obvious, subtle, or surprising. Perhaps objects were created by the same artist or during the same time period; offer contrasting ways of depicting the human figure; or evoke broad questions such as the definition of painting.
Speaking Parts explores this concept through works from the museum's collection, focusing specifically on our core interest: understanding Northwest art within a broader art historical context. The exhibition uses a mixed-media wall installation by contemporary Northwest artist Dennis Evans as a touchstone for tracing links between objects like the Robert Yoder pictured above, which shares its Northwest roots, nontraditional painting materials, and an interest in abstraction. A selection of approximately 40 paintings, sculptures, prints, jewelry, and glass from a variety of time periods and artists offer visitors multiple ways of experiencing and interpreting the museum's collection.
Works include such collection favorites as Pierre-Auguste Renoir'sHeads of Two Young Girls from the Lindberg Collection, images from the Buck Collection of Japanese woodblock prints, and Whiting Tennis's Blue Tarp, recently acquired for the collection in honor of John and Shari Behnke.