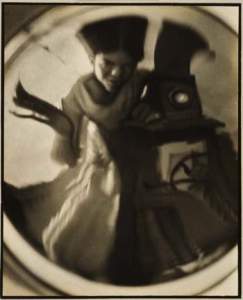 A Turbulent Lens: The Photographic Art of Virna Haffer
July 2 – November 6, 2011
One of the most inventive Northwest artists of her time, Virna Haffer was an internationally recognized and respected Tacoma photographer who has slipped from both regional and national art history books. This summer, Tacoma Art Museum uncovers her innovative artwork.
In a career spanning more than six decades, Haffer found success as a photographer, printmaker, painter, musician, sculptor, and published writer, though she is known first and foremost as a photographer. Self-taught, she began her ambitious career in the early 1920s, both running a successful portrait studio (where she photographed the likes of the Weyerhaeuser and Chihuly families) and also exhibiting her unique artistic images around the world.
The curatorial team of Margaret Bullock, Christina Henderson, and David Martin searched through more than 30,000 of Virna Haffer's photographic negatives, prints, and woodblocks at the Washington State Historical Society and Tacoma Public Library's Special Collections to create this exhibition and its accompanying catalogue.
"It is an amazing opportunity to be able to bring the life and work of Virna Haffer to light once again," said Margaret Bullock, Tacoma Art Museum's Curator of Collections and Special Exhibitions, and a co-curator of the Haffer exhibition. "Her artistic curiosity is palpable in her work, which in itself is staggering in its volume, diversity, and range. Her role in and impact on the Northwest photographic community is just beginning to be uncovered and understood as we explore her unrivaled photographic legacy."