One of the primary characteristics used to define an artist's individual style are the techniques they use in working with their medium.

For painters, technique can include the type of brush or tool, as well as the physical gesture used to apply the medium.
The resulting lines, brushstrokes, dabs, and drips bring together the other components into the finished image. Consider the shape and size, variations, and relationships of the marks and how they contribute to the impact of the work.
"My surfaces are intentionally quite smooth. I want the emphasis to be on the image, so I stay away from leaving lots of brushstrokes, since those would be a reminder of my presence.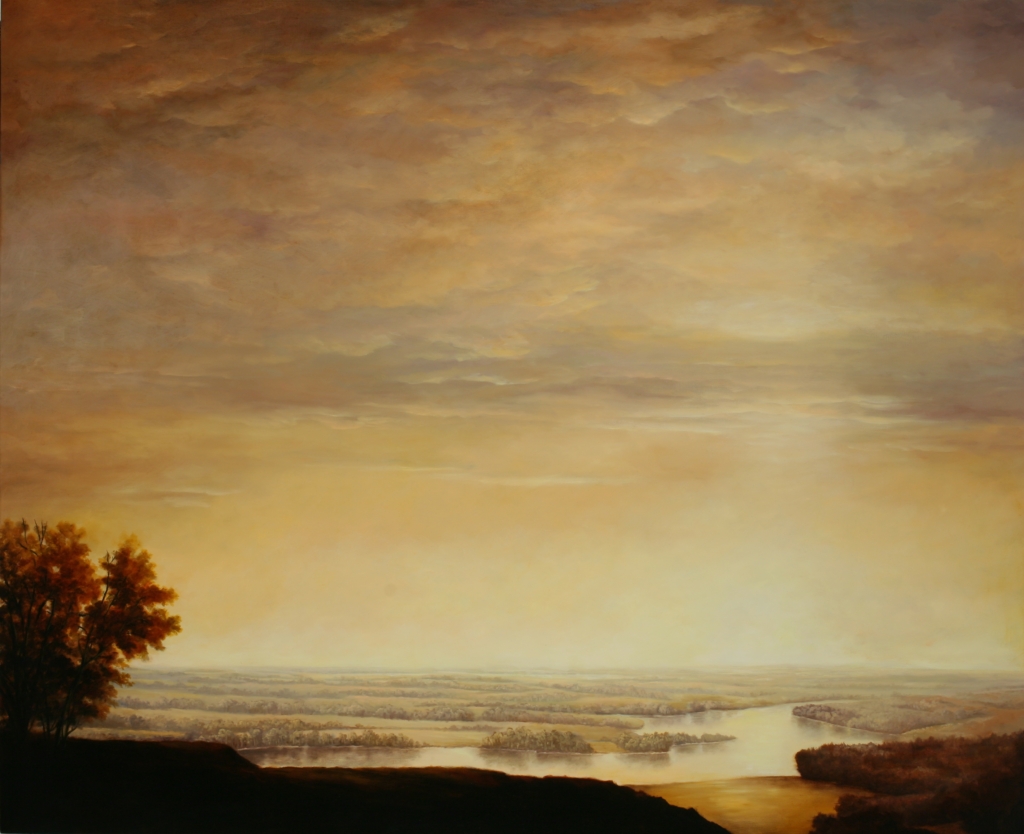 I have certainly been strongly influenced by the American Luminists and the Hudson River School artists….The way I paint light, for instance—with subtle value gradations of translucent color….
I typically work from the top down on the sky area first, completing it almost entirely before then moving on to the area below the horizon. I work directly with a little Liquin or Galkyd [a medium added to paint] using smooth brushes and feathering as I go. I consult various photos I have printed out in the studio to render details."
—Victoria Adams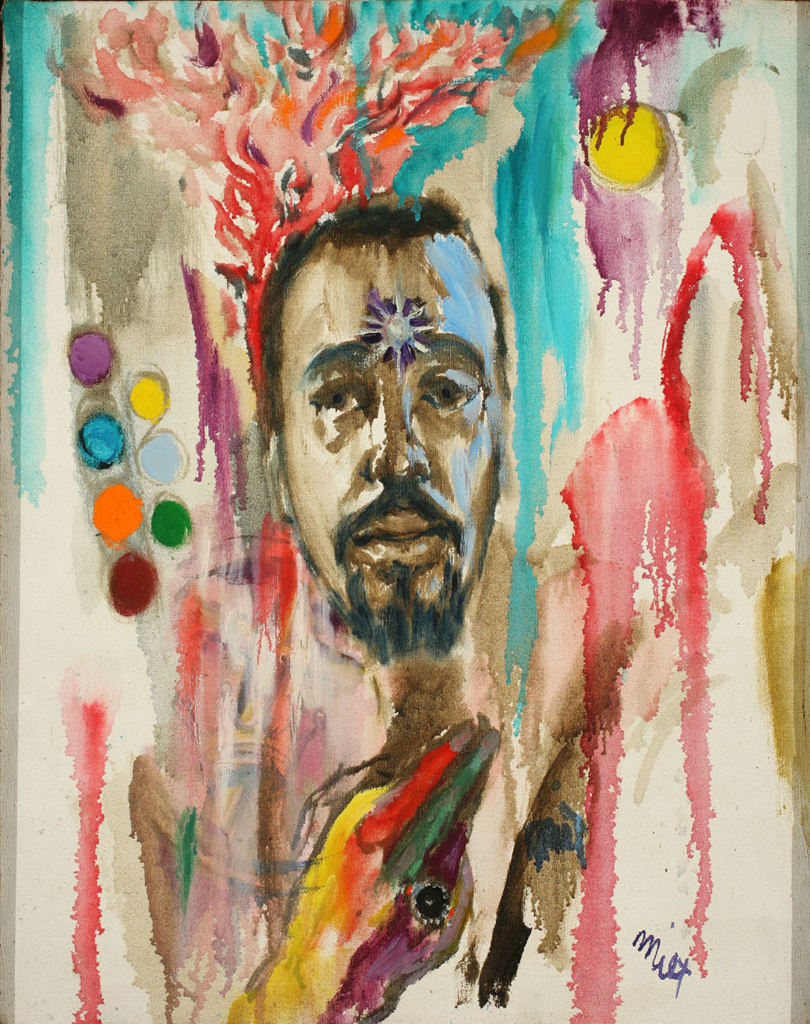 When the museum acquired this painting the artist's widow included a description of her husband's artistic process. She noted that his works often reflected important aspects of his identity in both their subjects and appearance. Expressing his emotions and sensations in his paintings was particularly important to him.
I feel that in this self portrait, Simons expressed himself not only through his intense gaze but also by choosing to drip, stain, and pour rivulets of paint down the canvas, surrounding his head in a vivid aura.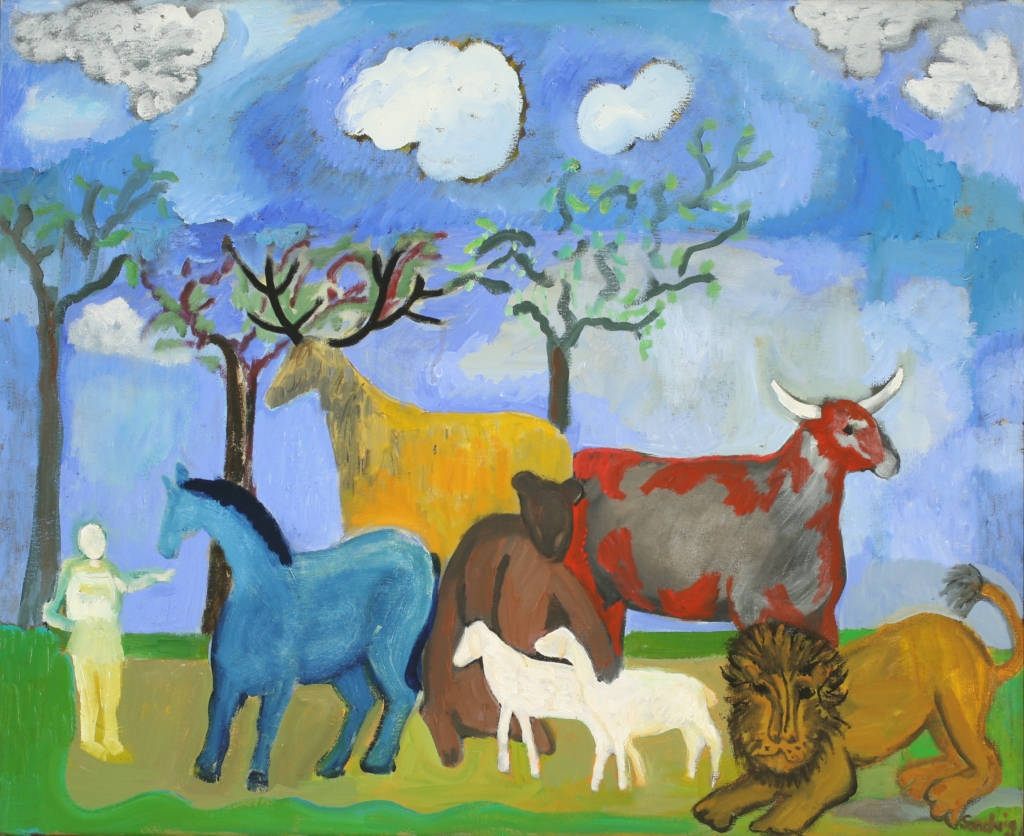 "I'm not a hard-edge painter. It's very hard for me to make straight lines….What I'm counting on is the color and how the color bounces back and forth and makes a relationship with the color next to it. "
—Elizabeth Sandvig
Roger Shimomura is known for works that comment on the contemporary Asian American experience through images influenced by comic books, cartoons, and other pop culture sources.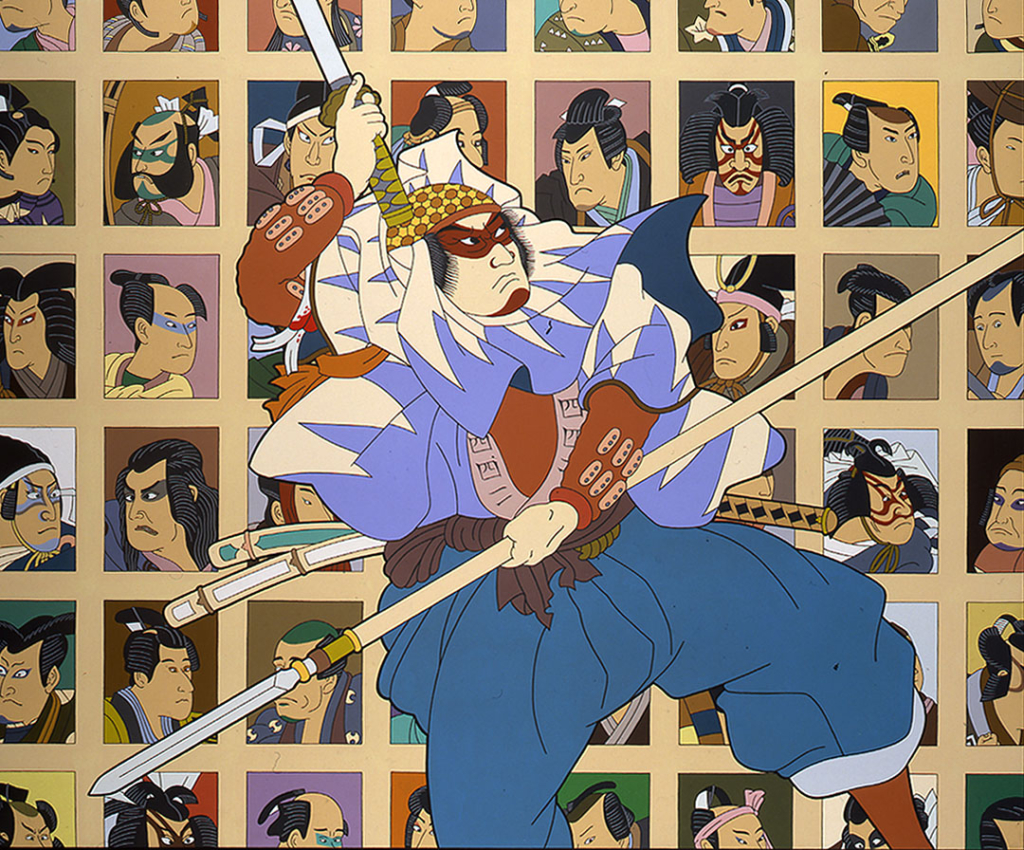 Even though I know this work is an acrylic painting, it always looks to me like the cover of an oversize comic book. I like to push past its large, colorful visual impact to try and understand how the artist has achieved this effect. It's partly the flat, strong colors as well as the vivid gestures of the central figure. But I think it's primarily because of the sharp, clean borders where colors meet and create edges and outlines. This technique makes it feel like a drawing or print, rather than a painting.
Painting Deconstructed: Selections from the Northwest Collection was organized by Tacoma Art Museum and generously supported in part by Tacoma Creates.
Exhibition texts by Margaret Bullock, Chief Curator, Curator of Collections and Special Exhibitions unless otherwise noted.
Copyright for the artwork and the photography of the artwork lies with the artist, their assigns, or the museum. Images are available to view here for educational purposes only and are not for commercial use.
Image credits: (banner) Donnabelle Casis. Untitled, 1999. Oil on canvas, 24 x 24 in. (61 x 61 cm). Tacoma Art Museum. Gift of Ben and Aileen Krohn, (mid-page) Alan Lau. Detail from "What We Left Behind I," 2009. Sumi and mixed media on paper, 30 × 60 in. (76.2 × 152.4 cm). Tacoma Art Museum. Gift of Alan Lau in honor of Francine Seders.