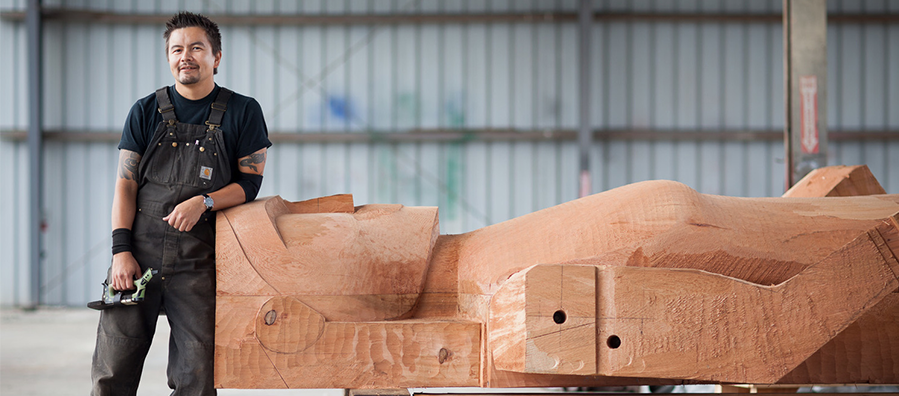 Qwalsius-Shaun Peterson
Shaun Peterson, or Qwalsius, is a pivotal figure in the revitalization of Coast Salish art traditions. He is a member of the Puyallup Tribe and was raised in Tacoma. Shaun has worked in wood, glass, metal, and digital media, embracing historical and contemporary influences. In 2010, he created the monumental Welcome Figure across from the Tacoma Art Museum on ancestral Puyallup land. He currently serves on TAM's Collections Committee. Check out www.qwalsius.com for more on Shaun's artwork, social commentary, and upcoming shows.
---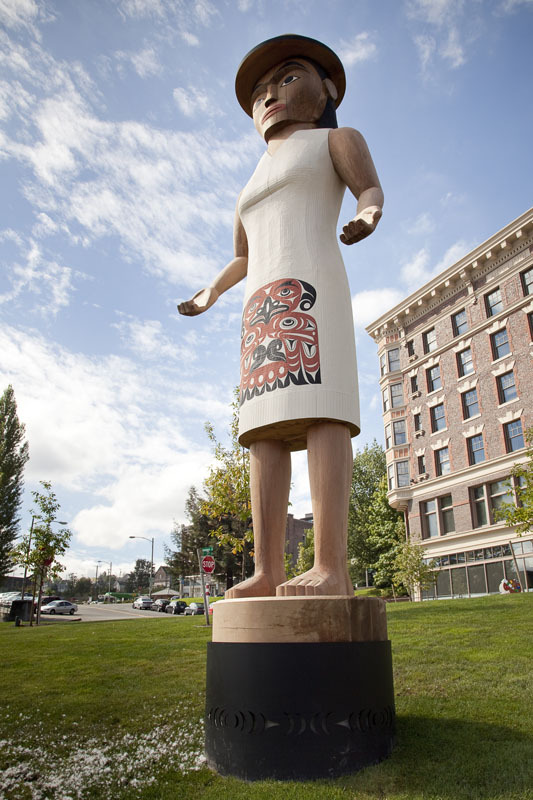 Tell us about your work as an artist…
I'm grateful for my training in traditional techniques but I am equally grateful for the technological tools available to me in my lifetime. Once I became comfortable with the idea of embracing my natural instincts, doors opened up and I have never looked back. I create for today, honoring my ancestors by creating in the present.
What are your thoughts  on the portrayal of Native peoples as elements of the past in western American art?
There is a hard romanticism we face as Native people. A story and archetype have taken hold that we have little to no control of. Whether it is a warrior on horseback aiming his arrow back at an unseen enemy, or a reflecting Native overlooking Nature, it feeds a story that doesn't allow us to be seen as real people. Some images are accurate and informed, but those images are outnumbered by works that cry out that the vanishing race concept is real. This is an unfortunate conventional wisdom which artists of our ethnicity have to overcome in the modern art world.
What are your thoughts  on the lack of tribal diversity in western art?
This is a problem of epidemic proportions and has gone unchecked for decades. My personal experience with this came from my exhibit in Prague in 2013. There I learned about a fictional character named Winnetou. This heroic character from a novel of the same name, by German author Karl May, influenced a generation of young European men to want to be Native. It remains largely ingrained in that part of Europe's perception of what Native people are. At my presentation at Charles University in Prague, several students and even staff couldn't believe I was Native because I came in to the exhibition hall not wearing buckskin fringe clothing or long black hair with feathers in it, but rather my business casual appearance, short haircut and my messenger bag with laptop.
I had a similar experience in Taiwan as a resident artist for the government. It was depressing to be a "disappointment" as though I were a performer rather than an artist there to share culture. In both cases the people learned from our exchange and it worked out well, but on initially meeting the mind set has been shaped by generations of misinformation.
What do you want people to know about Native American culture?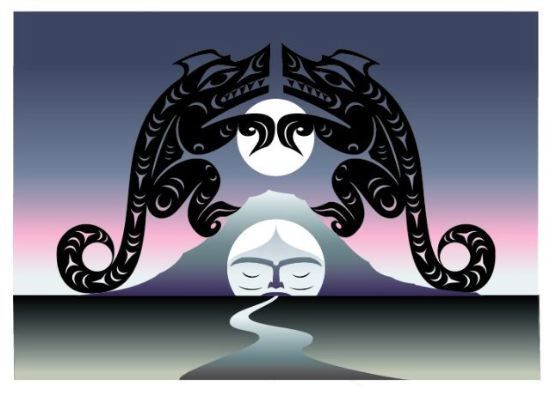 There are a few things. We are a diverse people who respect one another's ways and cultures. I don't speak for all Natives because we are many nations.
We are a contemporary people and I don't agree with the idea of 'walking in two worlds', as if my Native identity was incompatible with modern life. I attend ceremony, participate in my culture, and can feel no guilt about interacting with the world of today.
Perhaps most frustrating is the fantasy that as a member of a tribe I have the power to adopt someone or give away my culture to non-Natives, as if race were achieved like Boy Scout badges.
What can our museum do to support Native peoples?
It comes down to programming and showcasing Natives in the everyday. I think Matika Wilbur's Project 562 has a lot of potential in this regard. I am hoping to see some programming that can highlight artists doing work that doesn't require them to always fit a standard cultural preservation sort of template. I hope young Natives embrace this time they are growing up in and look to the possibilities of film making, photography, video installation, performance and 3D design amongst the creative expressions at their disposal. I'd like to see that opportunity open up in art institutions like TAM, not only for the young ones, but for people like myself.
Why should TAM have a collection of Western American art?
I see it as an opportunity for Native people to now have a commentary on those images and begin discussions about them here in the Northwest. You can't have that commentary in a place where the presence of Native people isn't as strong. The Native voice is much stronger in Tacoma and Seattle than in many other parts of the country. This collection is an opportunity to address these potential issues of how we are represented in western art. When people go to visit TAM they will see that our tribes are still here and that there are diverse Native cultures.
Do you have any further comments?
It is often overlooked that Native people do have a culture that has been here thousands of years. But we also had different priorities and chose to work with the land and with nature rather than to seek out permanence, which shows in our culture and our arts. This legacy doesn't translate when seen through other people's perceptions.
There was a particular idea of what Indians were and what their art looked like for a long time. People didn't scratch below the surface. But now is an interesting time because we can finally be heard and we have a collective voice. There are more Native people speaking out.
---
Image credits: Image of Qwalsius-Shaun Peterson  with Welcome Figure by Peter Miller. Image courtesy of the artist. Qwalsius-Shaun Peterson,  Welcome Figure, 2010. Red cedar, paint, powder coated aluminum, steel, 24 í—  6 í—  4 feet. Tollefson Plaza, Tacoma, Washington.  Qwalsius-Shaun Peterson,  Grandmother, Edition of 60, 2009. 30 í—  24 inches. Image courtesy of the artist.