Student Group Interview
This group interview was conducted with five students from Tacoma School of the Arts who discussed artworks in Art of the American West  together. The Tacoma School of the Arts is the only arts school in the greater Tacoma, Washington area. The mission of the Tacoma School of the Arts is to provide an urban center offering a creative path of learning, which emphasizes human expression through the visual and performing arts as central elements in academic achievement and lifelong endeavor.
Erin Tail
Junior |  Northern Cheyenne, Lakota, Western Band Cherokee
Erin is 17. She studies songwriting and writes about racial and gender issues. She previously attended Chief Leschi for middle and elementary school.
Bessie Tail
Sophomore |  Northern Cheyenne, Lakota, Western Band Cherokee
Bessie is 16 and studies filmmaking and screenwriting at SOTA. She previously attended Chief Leschi for middle and elementary school.
Auriel Zantua
Incoming Freshman |  Haida, Tsimshian
Auriel plays the cello and plans to study photography when she starts at SOTA next year. She is 13, and is currently an 8th grader at Jason Lee Middle School.
Asha Richardson
Senior |  Haliwa-Saponi
Asha is 17 and in her final year at SOTA where she is a Renaissance major studying multiple art forms.
Madison Chavez
Senior |  Chippewa-Cree, Aztec
Madison is a visual artist and graphic designer at SOTA. She is 18 and will be graduating this year.
What artworks stand out to you?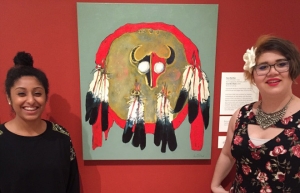 Madison: I love Kevin Red Star's Crow Warrior Shield. The painting is very graphic and very gripping. With the color usage, it pops right out at you, and you feel an emotional connection with it. The unity of the circle reminds me of family. The artwork instantly stuck out to me and wanted me to look at it. It conveys "I am important and I am here". I personally recommend that people come and see this piece.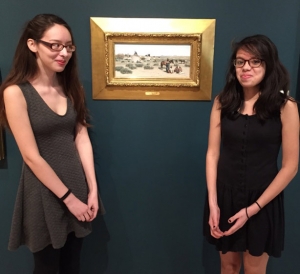 Bessie: The painting Indian Encampment by Henry Farny. It is very intricate. It features a camp, which seems really natural and calm. I enjoy the entirety of the painting: the color usage, and the landscape.
Erin: There is a portrait of a Native American leader next to a portrait of George Washington. I really think that is cool. It stands out to me because they were each the most important person of their group, and it is interesting to see what distinguishes them as an important person. The Native man has nice regalia on, like a dentalia shell necklace, and some kind of head piece. George Washington has a suit on, his face is powdered, and he is wearing a weird curled courtroom wig. I really enjoy looking at the paintings next to each other.
What are your thoughts on Bill Schenck's An Ancient Place?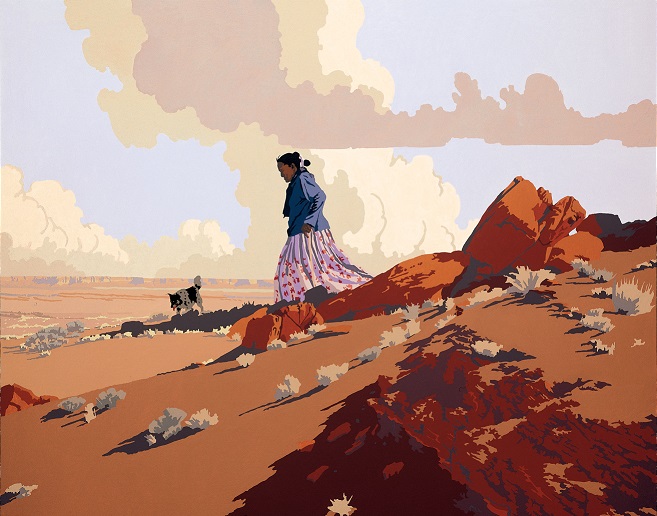 Asha: I really like the technique. It is interesting because you don't see every detail of her face, instead the painting is trying to show the scene or the environment. The Native woman in the painting looks like an Elder, but doesn't seem to be wearing a Native American outfit. It just seems like a skirt. At the same time, Native Americans don't all wear the same things, and this could just be from a different era.
Madison: It is wonderful how this artist can execute his work with oil on a canvas. It is not printed or anything, it is just very elegantly executed. I always think of New Mexico when I see his work, and I also think of modernized Native American cultures because they are wearing very American clothing. I feel the same way as you, Asha, it is very modern. It feels even more modern with how it is painted.
What are your thoughts on John Clymer's The Storyteller?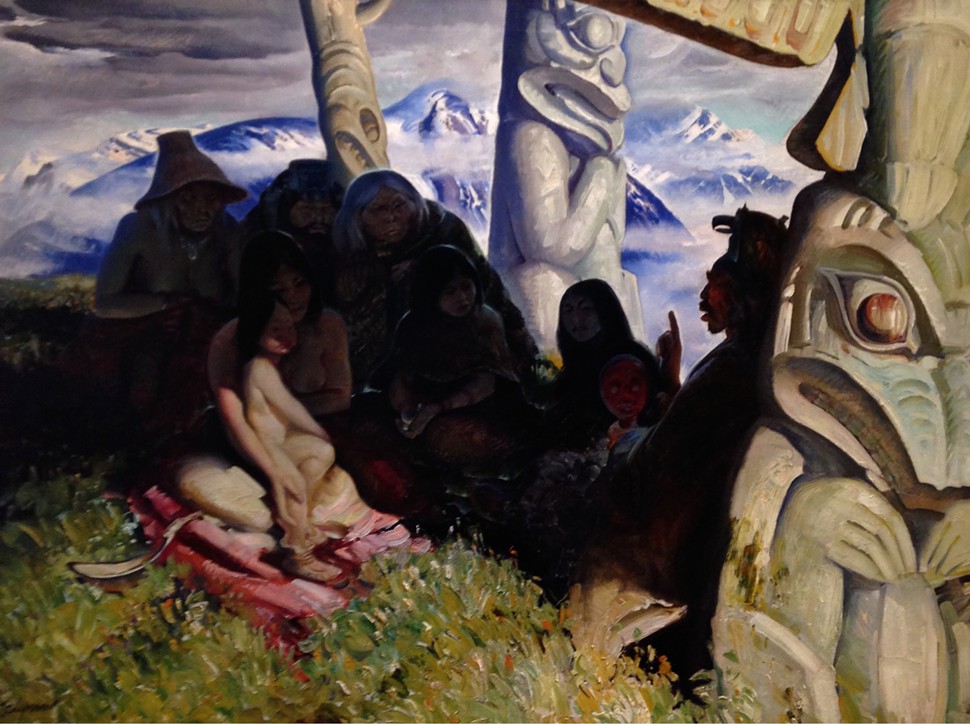 Asha: I remember coming into the John Clymer section last week, and I was really overwhelmed because there is just so much detail in these paintings. The first one I went to is The Storyteller. It seems so family oriented, I really like that close connection part of it. It seems natural: a family talking and telling stories.
Madison: I like how lifelike it is. You feel as if you are in that moment. You can feel the movement. You are a part of the image and you are interacting with the emotions they are giving off. Whether the people in the paintings are standing in strength, or riding a horse, you feel like you are about to do the same thing.
In The Storyteller, I also feel family. Everyone is connected and listening to his story. You can tell all the faces seem very engaged and empathetic to what he has to say. I really like this painting.
Asha: The first thing that stands out is, obviously, she is naked, but there is probably a reason. Maybe it didn't really matter in that time. In this time, in this country, you wouldn't see this happening.
Madison: It looks like they are on top of a mountain. There is so much mountain, it is probably Alaska, or the Northwest.
Auriel: If it is, I would be concerned that they are not wearing clothes because it seems like it would be a bit cold.
Bessie: I am not attracted to this painting. If they were in the mountains in Alaska, they wouldn't have been outside, and if they were outside they wouldn't have been nude. I just think it is very odd and somewhat fictional. I think the artist was trying to bring in little pieces, what they could, of Native American spirit by putting in details like the totem poles, but they are tilting at odd angles. Overall it is an odd painting and I don't really understand it.
Auriel: I was mostly looking at the totem poles they have in the background. I find those very cool, how they are painted, and the texture on the grass. The details are really good.
What are your thoughts on Mian Situ's The Entrepreneur?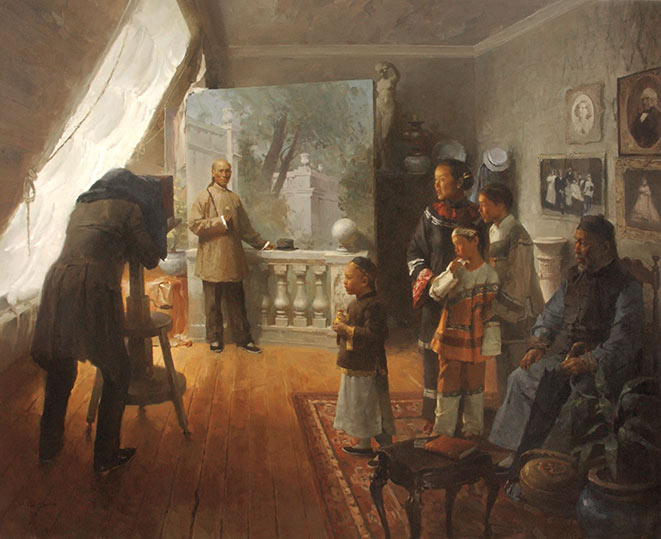 Auriel: This painting stands out to me because it is the only one with Chinese people.
Asha: When you think of the West, maybe it is just from school, but you only think of Native Americans and Caucasians. It is nice to see Chinese immigrants represented here.
Auriel: Maybe we don't see more images of immigrants because people in the past probably just thought of them as workers, they didn't really think about what would be happening in China or other places.
Madison: In the past, you were judged upon what you were, not who you were. To answer why we don't see more racial diversity in images of the West, I think it is because we stereotyped it to the point where we don't think of other races, only Native Americans and cowboys.
What are your thoughts on John Nieto's Buffalo  at Sunset?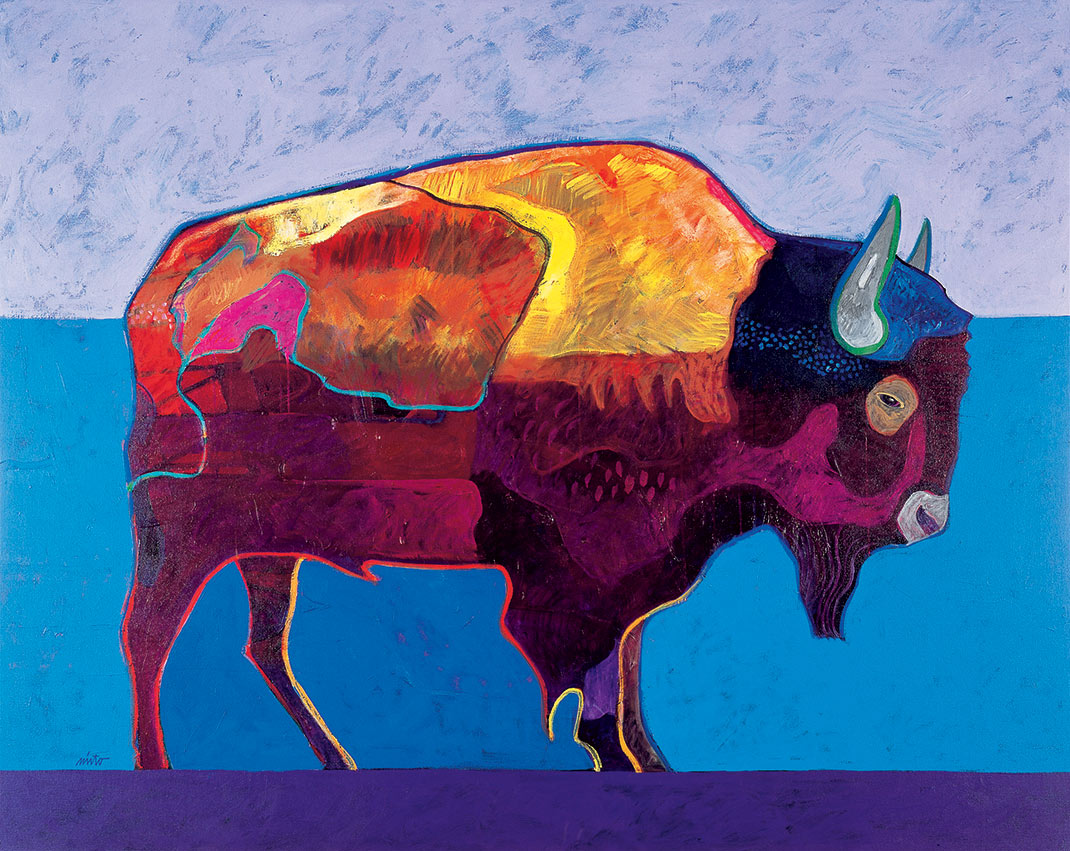 Auriel: Colorful!
Madison: It is very modern to me and I love the fact that it is a bison, because it is also relating back to tradition. I think of bison as symbolically representing the past and so to see it modernized is a good message to communicate to younger generations.
Asha: I like how the bison is pieced together and the lines separate parts of its body. The color choices really stand out, probably because it is the brightest thing here. It brightens up my mood.
Erin: It reminds me of a story quilt. Also as a Plains Indian, the way the buffalo is sectioned off reminds me of how, when we hunted the buffalo, every piece was used. And it looks like states or how after European settlement America was separated into different states. Maybe it is also like a map of different tribal areas where the buffalo was roaming.
What are your thoughts on Kevin Red Star's Buffalo Horse Medicine?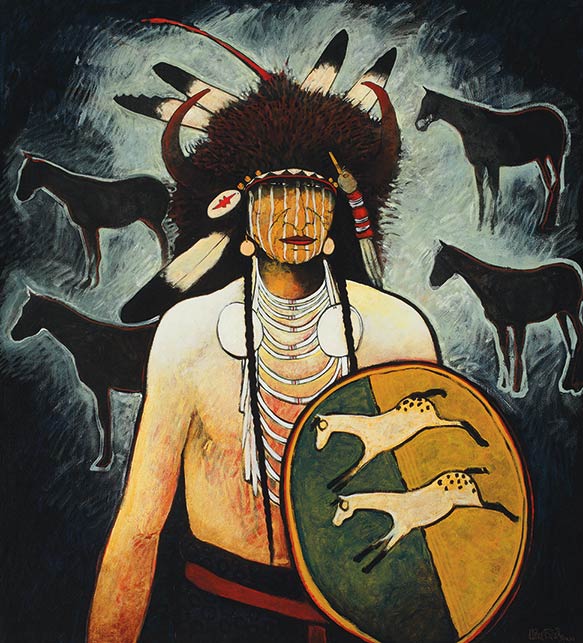 Madison: When I was looking at this section, I realized that he is the only Native artist on this wall, and it gives us that perspective again of the whole collection. There are only three Native artists, but each Native artist leaves their solid imprint on the exhibition with very impactful images. I am very attracted to Kevin Red Star's work, and all the other images seem to melt next to this particular artist.
Bessie:  The Native American artists' pieces are more rugged, and they are beautiful. I notice a lot of broad strokes, and the technique is not as delicate or intricate as some of the other work.
Asha: I see what you mean. Maybe because they cut to the chase and get to the main point of what they want to represent. The non-Native artists try to do the same, but they end up creating stereotypical representations. I feel like it should just be Native American artists painting about Native Americans, because there is more of a connection.
Madison: When I look at this man's eyes, I see anger, and darkness. I also see some light, like a balance and unity between light and dark. Maybe he is coming into light. There are a lot of reds and blacks. Erin, weren't you telling me about what red symbolizes in some Native cultures?
Erin: Blue is really spiritual, and it is supposed to represent the spirits that are helping and guiding you. Red is the physical embodiment of the spirit, and so this painting is showing that he is here, really present, right now.
Do you have any additional comments?
Erin: Sometimes it was a bit silly, how we are portrayed in the galleries, but there is also some wonderful truth and accuracy within this collection that I absolutely cherish. I want people to understand us and to respect us, and to also want to work or collaborate with us. We are good people and do good work. We are not all lumped into one tribe. We are beautiful individuals.
Bessie: We are all individuals, but stand together. Most of the portrayals are fine, but I think a few of the non-Native artists still do not understand Natives and cannot correctly portray us.
Auriel: It would be good to teach them as much as possible, as much as they would like to learn.
Madison: It is important to know about Native Americans in modern day times. Youth and artists are trying to educate the public with all these topics in mind and more. There are so many stories of endurance just within our local populated areas, cities, and states.
Asha: We are peaceful yet will fight for our rights no matter what history says. Western American art should be represented anywhere and everywhere in the United States. The history of this country should be represented in order to preserve, learn, and better understand past mistakes in hopes we don't repeat such mistakes in the future.
---
Image credits (top to bottom): Images of SOTA students, photos by Asia Tail, courtesy of Tacoma Art Museum.  Bill Schenck (1947), An Ancient Place, 1999. Oil on canvas, 40 í—  50 inches.  Tacoma Art Museum, Haub Family Collection.  John Clymer (1907–1989), The Storyteller, circa 1935. Oil on canvas, 36 í—  48 inches.  Tacoma Art Museum, Haub Family Collection.  Main Situ (1953), The Entrepreneur–San Francisco, 2006. Oil on canvas, 44 í—  54 inches.  Tacoma Art Museum, Haub Family Collection.  John Nieto (1936), Buffalo at Sunset, 1996. Acrylic on canvas, 48 í—  60 inches.  Tacoma Art Museum, Haub Family Collection.  Kevin Red Star, Buffalo Horse Medicine, circa 2007. Mixed media, 44 í—  40 inches.  Tacoma Art Museum, Haub Family Collection.