The Northwest Studio Art Jewelry Display showcases a wide variety of works from the museum's important Northwest studio jewelry collection. A generous donation enabled us to reimagine how these small artworks can be more prominently and effectively shown to highlight their technical and creative artistry.
The collection of studio art jewelry at TAM is focused on Northwest artists but includes selected works by national and international artists who are important influences for the artists of the region. The artworks range from the streamlined modernist works of the 1940s and 1950s through the narrative, found object, and funk aesthetics that followed, to contemporary conceptual jewelry informed by current events and ideas.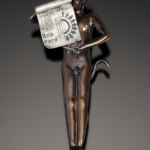 Keith Lewis is a Professor of Jewelry and Metalsmithing at Central Washington University, Ellensburg. He received his BS in Chemistry from Dickinson College in 1981 and his MFA in Jewelry & Metalsmithing from Kent State University in 1993. He has been teaching at CWU since 1994, where he is currently a CWU Distinguished Professor.
His jewelry has been shown both nationally and internationally and is represented in a number of significant public and private collections, including the Tacoma Art Museum, The Houston Museum of Fine Arts, The Rotasa Foundation (CA), The Boardman Family Collection (CA), The Porter/Price Collection (NC), the collection of Susan Beech (CA), The Smithsonian Institution and The Metropolitan Museum of Art.
---
Micki Lippe is an acclaimed jewelry artist whose one-of-a-kind and production necklaces and earrings have been shown at galleries and museums across the United States. Her most recent work — frequently inspired by hikes through the great forests of the Pacific Northwest — finds her moving away from the elegant precision of previous pieces in order to reflect the seeming randomness of the natural world.
---
Thomas Mann's father was a machinist for Bethlehem Steel, an influence to which Mann credits his interest in industrial design. While in high school, Mann experimented with jewelry-making and worked at a silversmith shop in Allentown, Pennsylvania. The jewelry he sold during his teen years helped fund his education at East Stroudsburg University, where he earned a degree in performing arts in 1970. Mann established a home studio in 1982 launching his highly successful company Thomas Mann Design. He now oversees a jewelry design and production studio, a sculpture studio, and gallery.
---
Marina Marioni is a self-taught artist. When she was 16, she began working for other artists across an impressive array of media: ceramics, wood, photography, metal, jewelry, and glass, and in the studios of glass artists Ginny Ruffner and Ann Gardner. Her father, the glass artist Paul Marioni, encouraged her to think about a career in art because she would be able to work for herself and would be able to use her abilities to quickly master any tool and craft.
---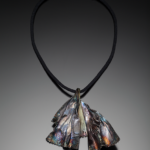 John Marshall is a specialist in the use of silver for sculptural, functional, and ornamental objects. He received his BFA in Silversmithing and Design from the Cleveland Institute of Art and his MFA from Syracuse University. After graduation he joined the faculty until 1970 when he relocated to Seattle to teach at the University of Washington. He served as head of the metals department at UW until 2001.
Marshall has had solo exhibitions in Seattle, California, and New York and has participated in numerous group exhibitions both nationally and internationally. He also has completed many private and public commissions for liturgical and other organizations. His works range from silver vessels to jewelry and unique sculptures that combine silver with acrylic, gemstones, and other materials.
---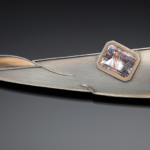 Eleanor Moty received her BFA from the University of Ilinois, Urbana-Champaign in 1968 and her MFA from Tyler School of Art, Temple University in 1971. She taught jewelry and metalsmithing at Moore College of Art, Philadelphia for several years and then at the University of Wisconsin-Madison from 1972-2001 where she is now Professor Emeritus. She has exhibited her work in museums and galleries worldwide and has received numerous awards including the Master of the Medium award from the James Renwick Alliance, Smithsonian Institution and in 2020 a Lifetime Achievement award from the Society of North American Goldsmiths.
---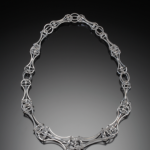 Gina Pankowski's career in contemporary jewelry was decided when she wandered into the metal arts studio at the University of Washington, and the classroom of Mary Lee Hu. Since graduating in 1993, Pankowski has gone on to show her jewelry in galleries around the country and the world, and her work has been included in major exhibitions at prestigious institutions including the American Craft Museum in New York, and the Smithsonian Institution in Washington, DC. Her work is in the permanent collections of the Renwick Gallery of the National Museum of Art, Smithsonian Institution, and the Samuel Dorsky Museum in New Paltz, New York.
---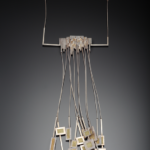 Seth Papac holds a Bachelor of Fine Art in Jewelry/Metalsmithing from the University of Washington, Seattle, WA and a Master of Fine Art in Jewelry/Metalsmithing from the Cranbrook Academy of Art, Bloomfield Hills, MI. His work is exhibited and published internationally and he is the recipient of several prestigious awards and grants including the Louise Comfort Tiffany Award and the Toby Devan Lewis Fellowship. His work is included in the permanent collections of the Museum of Fine Arts, Houston, TX, Cranbrook Art Museum, and the Rotasa Foundation, Mill Valley, CA. He has taught at various university programs across the country including serving as Department Head of Metals at the Oregon College of Art and Craft in Portland, Oregon. He is currently on the faculty at the Rhode Island School of Design.
---
Coralynn Pence studied at the Chouinard Art Institute in Los Angeles and at the University of Washington. She had a wide-ranging influence on the jewelry arts in the Northwest through her own works as well as her role as a teacher. She taught at the Edison Vocational School in Seattle for 16 years during the early half of the 20th century where she influenced a number of Northwest jewelers. She also taught briefly at the University of Washington.
---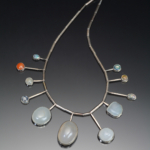 Ruth Penington was a prominent Northwest jeweler who influenced generations of students and helped foster the studio art jewelry movement in the Northwest.Penington received her BFA from the University of Washington in 1927 and her MFA in 1929. She then began teaching at the University of Washington becoming a full professor in 1951 and continuing until 1969. Penington also helped found the Northwest Designer Craftsman in 1954. There were retrospectives of her work at the Henry Art Gallery in 1962 and on her retirement in 1969.
---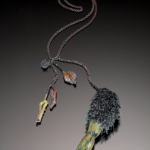 Maria Phillips is a Seattle-based studio artist and educator who received her BA from Loyola University, New Orleans and her MFA from the University of Washington, Seattle in 1997. Most recently her work was exhibited in Hidden in Plain Sight at Bellevue Art Museum in 2019.
---
Anne Praczukowski majored in art education at the Massachusetts College of Art. Her senior thesis was in jewelry, metalwork, and lapidary work. After graduation she taught the crafts program as well as drawing and design at Lasell College, Massachusetts. She later pursued graduate work in the metals department at the University of Washington studying with Ruth Penington, Ramona Solberg, and John Marshall. She taught at Cornish School of the Arts (Seattle) for several years before turning fully to studio work. She has said that she works with metal because she likes the resistance of the material. Her work is characterized by inventive and sometimes exploratory ways of manipulating metal of various kinds.
---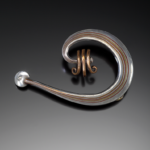 Heikki Seppa began his training at the age of 14 at the Goldsmiths School, Helsinki and Center School for Industrial Arts. He later traveled to Denmark to study under master metalsmith Georg Jensen. In the 1950s he attended Cranbrook Academy of Art.
In addition to his work as a metalsmith, Seppa was an educator, notably as a professor at Washington University, St. Louis from 1965-1992. In 1998 he moved to Bainbridge Island, Washington. Seppa's work can be found in numerous private collections as well as the collection of the Renwick Gallery, Smithsonian American Art Museum.
---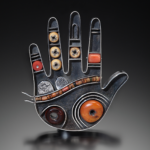 Kiff Slemmons received a Bachelor of Arts in Art and French from the University of Iowa in 1968. Self-taught as a metalsmith she began making jewelry in the 1970s. Her work has been exhibited nationally and internationally including a mid-career retrospective at the Palo Alto Art Center, California in 2000. Her work can be found in numerous museum collections, including the Victoria and Albert Museum, London, the Metropolitan Museum of Art and the Museum of Arts and Design, New York, the Mint Museum, North Carolina and the Museum of Fine Arts, Boston. Recently she has been collaborating with artisans at Arte Papel in Oaxaca, Mexico to create paper jewelry using indigenous plants and fibers.
---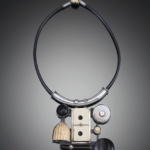 Ramona Solberg was born in Watertown, South Dakota. She moved to Seattle with her family in 1923. She studied at the University of Washington with Coralyn Pence and Ruth Penington as well as in Mexico. She taught at Central Washington State College (now Central Washington University), and was Associate Professor of Art at the University of Washington from 1956 to 1967.
---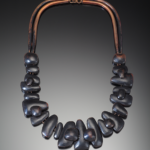 Julie Speidel's sculptures engage an extraordinary array of cultural influences, reaching back through antiquity to the stone- and bronze-age peoples of Europe, the early Buddhists of China, the Indigenous tribes of the Pacific Northwest, and on into twentieth-century modernism. As a teenager, she lived in the British Isles and was fascinated by the pre-historic ruins she saw in England, Ireland, and Scotland, including the stone monoliths at Newgrange and Stonehenge. Her work in both bronze and stone reflects the nature of these structures and others she found on wide travels throughout Europe and Asia.
---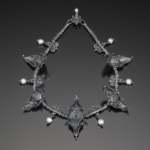 Lori Talcott is a Seattle-based metalsmith making both contemporary work and Norwegian folk jewelry. After studying art history at Lund University (Sweden) where she earned a BA, she studied Metal Design at the University of Washington receiving a BFA. She then traveled to Norway to work as an apprentice to a master silversmith.
---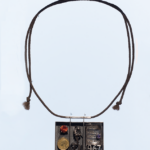 Don Tompkins began his studies with jeweler Russell Day at Everett High School later becoming his studio assistant at Everett Junior College. Tompkins went on to earn a Bachelor of Arts degree and a Master's certificate from the University of Washington; he also later pursued graduate studies at Syracuse University and Columbia Teachers College, New York. After graduation, he taught for several years at Everett Junior College then accepted a position teaching jewelry at Central Washington College (now University) in Ellensburg, Washington where he stayed for five years. Subsequent teaching appointments included the University of Washington and New York University. Tompkins worked and showed his jewelry throughout his lifetime winning a number of awards and creating a small but innovative and influential body of work.
---
Merrily Tompkins created sculpture and jewelry out of found objects and also worked with paper. She studied at the University of Washington and also Central Washington University (Ellensburg) sometimes taking classes from her older brother, Don Tompkins, a prominent Northwest jeweler who taught there.
Starting in the 1970s, Tompkins began making sculptures, metal objects, and kinetic jewelry. She served as a jewelry instructor at Seward Park Art Studio in Seattle, Centrum Foundation in Port Angeles on the Olympic Peninsula, and the Factory of Visual Art in Seattle.
---
Cynthia Toops has been working with polymer clay since the 1980s. While she is known for her figurative micromosaic pieces, in the last few years she has been concentrating on thin sheet work, creating the cone and claw necklaces and the Rolodex series. Most of her work is inspired by ethnic jewelry and ancient beads which she and her husband collect. Cynthia has a BFA in printmaking from the University of Washington and a BA in Biology from Drake University. She spends long hours researching and planning work with her husband Dan Adams, a glass artist with who she makes collaborative works.
---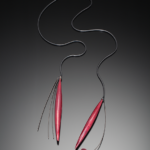 Cathryn Vandenbrink makes jewelry from refined metals resulting in simple, elegant, often oval forms with polished surface finishes. In the 1990s she became involved in numerous projects to create long-term affordable space for artists and arts organizations starting as deputy director of the Pioneer Square Community Development Organization and then joining Artspace Projects where she is now Regional Director and has been instrumental in the creation of several notable artist communities and spaces in Seattle. She received the Mayors Arts Award in 2008.
---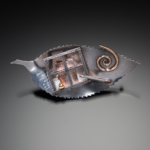 Roberta Williamson has a BS in education from Northern Illinois University and MFA in jewelry and metalsmithing from Virginia Commonwealth University. Most of her works are created in collaboration with her husband, David using a collection of found objects, antique prints, and other ephemera. Their works reference personal memories and experiences often in a celebratory or playful way.
---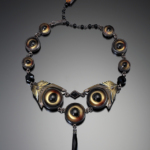 Nancy Worden was born in Boston, Massachusetts, in 1954. Her family moved to central Washington State in the early 1960s. She made her first jewelry in high school art classes, studying with Kay Crimp at Ellensburg High School. In her senior year in 1972, Worden enrolled in college-level classes at Central Washington State College (today Central Washington University), where she met artist and professor Ken Cory. Cory became an important mentor and key influence on her career. She received her BFA from Central in 1977.
Worden's jewelry is in the collections of Tacoma Art Museum; the Museum of Fine Arts, Boston; the Museum of Fine Arts, Houston; the Racine Art Museum; the Museum of Arts & Design, New York; the Seattle Art Museum; the Stedelijk Museum 's-Hertogenbosch, Netherlands; and the Seattle City Light 1% for Art Portable Works Collection. In addition to her jewelry, Worden also has curated and collaborated on numerous exhibitions, and taught a number of workshops for her peers as well as classes for middle and high school students in the Puget Sound region.
The Northwest Studio Art Jewelry Display is now on extended view. Explore Tacoma Art Museum's studio jewelry collection on eMuseum.
Banner image: Nancy Worden. (American, b. 1954). "Look Out," 1988. Sterling silver, onyx, and tigers eye beads, vintage plastic eyeglass frame, and glass taxidermy fish eyes, 17 in. (43.2 cm). Tacoma Art Museum, Bequest of the Estate of Mia McEldowney, 2014.19.31. Photo courtesy of Douglas Yaple.