Portraits have a long history with examples in a variety of mediums and cultures across time. More than just a record of someone's appearance, portraits are often used to show the power, importance, beauty, wealth, education, taste and other qualities of the sitter.
Self-portraits, a subgroup within the genre, can often be reflective or revelatory. We see this approach in "Self Portrait Drawing" by artist Akio Takamori. The work, nearly 4 feet high by 3 feet wide, intervenes in the space, encouraging viewers to engage, despite the artist's averted gaze. Like many pieces by Takamori, this drawing references the artist's own search for personal and cultural identity as a Japanese immigrant in the United States.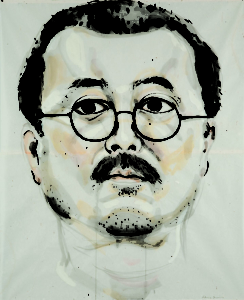 Takamori is best known for his innovative work in sculptural ceramics. He is one of a group of ceramicists at the University of Washington who for several decades have been exploring the possibilities of clay as a medium beyond creating functional objects. Takamori's works are almost exclusively figurative. Many exhibit distinct personalities; he often groups them to create interactions and narratives. Through their forms and relationships, his works explore both public and private personas and how they are shaped by time and culture.
Akio Takamori earned a master of fine arts in ceramics at Alfred University in New York in 1978. His exhibition history includes a midcareer survey, Between Clouds of Memory, organized by Arizona State University Art Museum. The exhibition traveled to Tacoma Art Museum, the Art Gym at Marylhurst University in Portland, Oregon, and Racine Art Museum in Wisconsin. Additionally, his work has been featured in one-person exhibitions at the Tempe Center for the Arts in Arizona and European Ceramic Work Centre in the Netherlands. His work is in national and international collections, including the Victoria and Albert Museum in London, Taipei Fine Arts Museum in Taiwan, the Museum of Contemporary Ceramic Art in Japan, the Archie Bray Foundation for the Ceramic Arts in Helena, Montana, and local public, corporate, and museum collections. His work has been included in many books and reviewed in Ceramics Monthly, Artnews, Sculpture, and the New York Times.