Sketch Club is a program based in Tacoma Public Schools that provides materials and resources for youth to create art. The program encourages student voice, choice, and thoughts around how they engage with their own identity as well as the world around them. It is a very special program that holds a dear place in my heart.  I know art to be transformative, to hold meaning and speak to history. Another truth I know is that art is widely inaccessible to black and brown, lower income youth – whether that be resources to teach and facilitate lessons, or readily available art materials.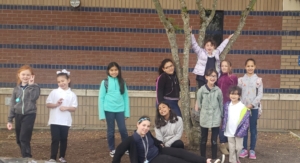 Youth are encouraged to take on the projects in whatever way best speaks to them. You introduce a project and it's going to speak to everyone differently.  We allow them to create whatever they want to or need to out of that. It's always helpful to offer a sense of structure and inspiration, which is what the projects are essentially.  We also encourage youth to create whatever they need for themselves in the moment, even if that is not the project presented.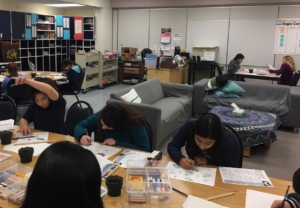 I think that's part of the allure of Sketch club- we provide lessons and inspirations for those who want it or need it. It also helps build community – we just encourage them to show up and create.  We want to be cautious of the ways we could block youth imagination because their imagination is such a precious and important aspect of their identity. We provide them with the materials and introduce them to new mediums and they make art.  Their art may speak to how their day went, or how their week is going or the boundlessness of their imaginations – they get to share that with us and that's a beautiful thing.
We've had to go completely digital. It's amazing to see that youth still want to show up and they have interest in these programs and activities. They want to be present; they want to make art even when the schools are closed. Art should always be open. Something that is notably different is how we deal with supplies. We are working with our community partners to distribute materials and kits to the youth's homes to make sure they have what they need to create. Now youth have their own materials, which I think is so important. Being able to provide them with their own to create outside of the program if they choose, to me, is pivotal and probably one of my favorite takeaways from doing this digital space. It's just been amazing to experience and be present in the ways that community partners have brought this digital space to life and how youth are tapping in. If anything, it speaks to how important this work is, this initiative. It's taken its own form digitally and is proving to be sustainable. It's showing us that this work can still be done. Kids still need to express themselves and be. Youth imagination is powerful, and art encourages that.